Portugal's red wine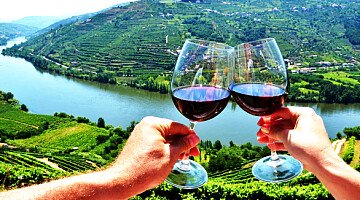 Portugal produces plenty of affordable, quality red wine - 'vinho tinto' -  and is beginning to make its mark with a wider and increasingly enamoured audience. It isn't difficult to see why: Portuguese wines exhibit an incredible depth of flavour and a stunning array of aromatic qualities.

Delicious rich, full-bodied reds are made from a blend of sweet grape varieties that ripen easily in the hot Alentejo summers, including Cabernet Sauvignon, Trincadeira and Aragonez, Alicante Bouschet and Syrah and Touriga Nacional. Relatively low in tannin, they vary in price but will all be rich, round and full-bodied, some even richer, darker and oak-aged depending on price. Other rich, ripe styled reds can come from the Tejo or the upper reaches of the Douro.

The Douro Valley is the most reliable source for robust reds. Tannic, big and with their unique flavour, top Douro reds are often made with a mix of grapes, "vineyard blends" where old mixed variety vines are planted together. These wines age and develop well, their tannins softening, their fruit mellowing. The mountainous wine region to the north of the Douro Valley is Trás-os-Montes, growing the same grapes and making big, robust reds. There is also Bairrada, made from the traditional Baga grape – it is full-bodied and high in acid and tannin – a unique wine!

Dão has perhaps the greatest concentration of elegant reds in Portugal; with granite soils and a cool climate, they ripen slowly due to the high altitude.  Fine-quality Touriga Nacional is blended with Tinta Roriz, Alfrocheiro, Jaen and other grapes to make intensely-flavoured and perfumed reds. The red wines of Palmela on the Península de Setúbal can be elegant, made from the Castelão grape which ripens well in the sandy soils of the Setúbal Peninsula and with a similar taste to a mature Cabernet Sauvignon.

And of course, we haven't even touched on Port or Madeira wines, but then that's a whole different story!

Find out more about calling Portugal your home and discovering the delicious and diverse world of Portuguese wines. Contact one of our knowledgeable and experienced team of Property Advisors: info@portugalproperty.com or call us on +351 308 800 878 or 0800 014 8201 free from the UK.
Published in: Site news / Property for Sale in Portugal / Portuguese Life / News and Updates / Guide to Portugal