Portugal's liquid gold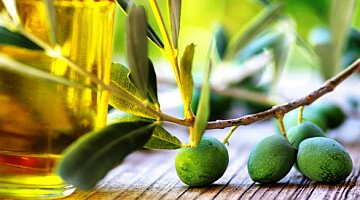 Published on
The weather in Portugal is glorious now, with warm balmy days and slightly cooler nights – this Mediterranean climate is just perfect for one of the most common features of the Portuguese landscape – the olive tree.
Olives can't be eaten off the tree – they are hard and very bitter. To eat them, they need a long curing process. Most of the olives are used for making liquid gold – olive oil.
It's nearly harvest time and Portugal is well known for the quality of its olive oil, being the sixth largest producer in the world.
It was the Arabs who intensified the cultivation of olive trees during their occupation in the 8th century. The word 'azeite' (olive oil in Portuguese) has an Arab origin - the word came from 'az-zait', which means olive juice.
In the 13th century, Portuguese olive oil was already exported to other countries. The product was so important in the dietary habits of the Portuguese people that in 1555, King D. João III established that the product was not subject to taxation, along with bread and wine.
As with wine, each olive oil has its own personality, linked to the combination of several factors: the soil, the know-how of the growers, the varieties and the maturity of the olives used. The ripeness of the olives at harvest time will therefore have an impact on the fruitiness of the oil produced from them. Portuguese olive oil has a fruity, slightly thick aroma, golden or greenish yellow in colour, bitter, spicy, or sweeter, mild, or intense. Olive oil is a pure fruit juice that offers a wide range of delicate flavours and aromas.
There are six oil production regions in Portugal with Protected Designation of Origin (DOP). Trás-os-Montes, Beira Interior, Ribatejo, Moura, Alentejo Interior and Norte Alentejano. The Algarve also has DOP olive oils, with some of the oldest trees in the country.
The Alentejo, is the largest area of olive oil production in Portugal, where approximately 76% of the creation takes place. Here you can see traditional, semi-intensive and intensive methods of olive tree cultivation.
There are so many reasons to invest in Portugal, find out more by contacting our friendly and knowledgeable team - hello@PortugalProperty.com or call us +351 308 800 878 or 0800 014 8201 free from the UK.
Published in: Guide to Portugal / Miscellaneous / Portuguese Life