Lisbon's Investment Real Estate Exceeds Expectations
Published on 23rd February, 2015 by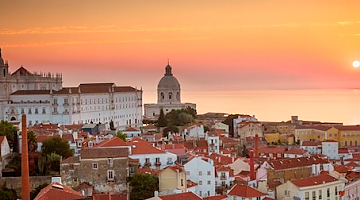 For real estate investors, finding the right property at the right time is key to making a profit. While European real estate has traditionally been in the larger cities, this year a shift has occurred. Lisbon real estate has taken a huge turn for investors, and values are rising rapidly. This means that it is a key time to get in on investments in Lisbon.
According to Emerging Trends in Real Estate, Lisbon is quickly becoming one of the top picks for investment properties. The publication, which evaluates the most lucrative cities for real estate investments, lists Lisbon as number eight, meaning this year it has surpassed the traditional cities - becoming more desirable than London or Milan.
Making a leap of 17 spots since last year, the Urban Land Institute has listed Lisbon an astounding leap ahead of its real estate category just one year ago. Why the seeming leap in real estate values?
A growing interest in Southern Europe is reflected in this shift in investment properties. More and more buyers are expanding their interest beyond the traditional borders, and perhaps one of the biggest draws for Lisbon is the lack of restrictions on foreign property ownership. This is coupled with low transaction costs, making it an appealing place to invest money for not only locals, but owners out of the country as well.
Perhaps one of the most progressive ideas to come out of Portugal is the country's decision to introduce what is referred to as a "golden visa". This is essentially a residential permit. This began in 2012 for buyers who purchased property with a value over 500,000. This led to a huge leap in foreign capital fueling the economy.
Lisbon is the main city in Portugal, hosting many company headquarters and being responsible for tourism management. It also houses the main airport, making transportation in and out easy, and is the center for several international schools and resorts.
While Lisbon has experienced a consistent drop in price in properties over the past three years as it has been dealing with a struggling economy, 2014 began to see a steady rise. This has made property much more affordable for the buyer, but as the economy recovers, prices are starting to rise at a fairly rapid rate.
This shift in the market has also decreased the amount of properties available. The downtown district has seen a rise in costs as more office space is rented, making the market more tempting than ever. According to reports, the EU-IMF bailout of 78 billion has turned the economy completely around. The market has gone from a seller from the bottom to the top.
International investors are helping to drive this market, but businesses and investors trying to find big-ticket bargains are going to struggle to find them. This is the highlight of the Portuguese market. Retails sales are continuing to grow, making it more desirable to invest in properties while sales are up. This is going to drive up demand, making rent higher, ultimately making more money from investment properties with a good mix of renters.
Investors are looking not only for properties, but many investors are seeking land to develop. Reports coming from Spain yield hopeful news for Portugal. There is a strong fan base in comparison with other parts of Southern Europe. At this point in time, Portugal is the desirable place to be, as Spain bottoms out in popularity and Greece is still not the focus of travel or investments.
2015 is expected to be a busy and profitable year, in spite of speculation over the weak economic conditions that have plagued the country. Financial reports lead to the belief that it is on a financial upswing.
Europe has long been known for the opportunistic streak in property investments. Those considering investments in Europe should act quickly while prices are still in the favor of the buyer. As prices continue to rise, the opportunity to make money has never been better than it is right now in Lisbon.
Published in: Portugal Property / Money