It's Sardine Season!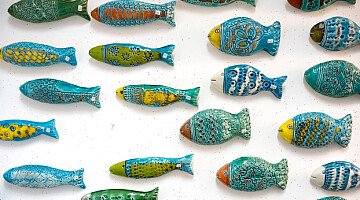 Sardines
Finally yes, it's sardine season in the Algarve – it's very simple; in July and August, the priority becomes eating the best sardines, comparing the catch across the summer months, eating them at street parties, at restaurants, at home, on the beach... anywhere. The sardine is still the most popular fish in Portugal, 'sardinhas assada' – grilled sardines – are renowned the world over for their simplicity.

If you're eating out, choose a restaurant close to the sea where the locals eat – it will be good food, generally cheaper – here you can feel the true atmosphere of Portugal. The wonderful aroma of the sardines grilling in the open air gets your mouth watering as soon as you arrive. Grilled right before your eyes and generally served simply with bread, salad and boiled potatoes. 

One of the best things about sardines is that there are so many ways to eat them! Of course, you can use a knife and fork, but in the Algarve, the locals believe there is only one way to eat them… Place one fish at a time on a piece of delicious rustic Portuguese bread, bite into the flesh of the fish then flip it over leaving the bone behind. Then just repeat with the rest! Your final reward is eating the olive oil and salt soaked bread!

And you can't beat washing it all down with a delightful bottle of light, bubbly, crisp white wine known as Vinho Verde (green wine). This is a really refreshing wine and makes a perfect pairing with any type of fish. Many people believe it gets its name from the region it is produced, the lush green, rolling hills of northern Portugal.
Published in: Travel / Site news / Property for Sale in Portugal / Portuguese Life / Portugal Property / News and Updates / Guide to Portugal