Five Favourite Foods Of Portugal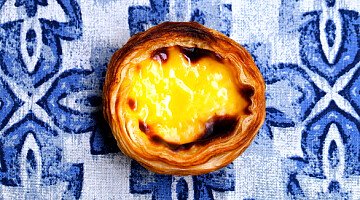 Pastel de nata
So whilst we are all being more creative in the kitchen at the moment, it's heartwarming to think about what Portuguese delights we will enjoy when things return to normal!

1. Pastel de nata

These cinnamon-sprinkled rich egg custard tarts were invented before the 18th century by Catholic monks in Lisbon's Belem district. As convents and monasteries used large quantities of egg-whites for starching the nuns' habits, the leftover egg yolks were used to make cakes and pastries. These tarts are perfect with a shot of coffee 'bica' at any time of day.

2. So much wine

For a small country, Portugal makes an astounding variety of great wines. Summery vinho verdes from the green northwest, full-bodied reds and fruity whites from Douro, Dao and the Alentejo. Bubbly from Bairrada; legendary Port and Madeira vintages and not forgetting honeyed Moscatel from Setubal.

3. Liquid gold

There are endless olive groves in Portugal. Olive oil is the basis of Portuguese cooking – use it to slow-cook salt-cod, dribble into soups or simply soak it up with hot-from-the-oven bread. Exports have quadrupled over the past decade as the world wakes up to the quality of Portugal's liquid gold, either from big-time producers like Gallo and Oliveira da Serra, or hand-crafted, single-farm oils.

4. Bacalhau

So legend has it, Portugal has 365 recipes for cooking salt cod. But in fact, there are many more! Bacalhau is served 'a bras' with scrambled eggs, olives and fries; as fish cakes 'pasteis de bacalhau' barbequed, oven-baked or simply boiled with cabbage and carrots, then drizzled in olive oil. Bacalhau is always close to the Portuguese soul.

5. Delicious cheeses

Portugal's cheeses are sumptuous but still relatively unknown. Creamy Serra da Estrela from the milk of ewes raised in Portugal's loftiest mountain range; hard, pungent cows milk cheeses made on the precipitous mid-Atlantic slopes of Sao Jorge Island; or peppery Terrincho produced in remote Tras-os-Montes. Try them all.

Portuguese cooking is deeply rooted in the freshest local ingredients – imagine sampling these delights from your own dream home in the sun. 

It won't be long…

In the meantime, feel free to contact our team of experienced Property Advisors on info@portugalproperty.com or call us on +351 308 800 878 or 0800 014 8201 free from the UK.
Published in: Site news / Property for Sale in Portugal / Portuguese Life / News and Updates / Guide to Portugal