Bolo-rei – the cake of kings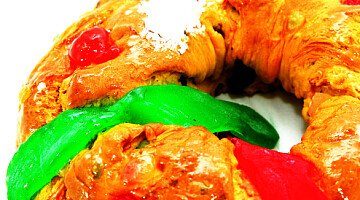 If you're in Portugal at this time of the year, you may have seen a very festive looking cake called a bolo-rei. This is part of Portuguese Christmas and Epiphany traditions and was introduced in the 19th century.
Its name alludes to the three wise men and translates as 'king's cake'. It is eaten specifically on the day of the Kings, January 6th (Dia de Reis), as well as the entire holiday season. The texture is similar to a brioche, it's not too sweet and it is shaped like a crown with a large hole in the centre. The dough contains a mixture of nuts and raisins and is decorated with large, brightly coloured gem-like slices of crystalised fruit and sprinkled with powdered sugar.
Traditionally, as you cut the cake, hidden in the dough were a dried fava bean (broad bean) and half a gold sovereign, a coin or a small metal charm. The three kings offered gifts to baby Jesus and their cake also has a gift! The reason for this was to decide whether the person eating the slice of cake was going to have good or bad luck in the year ahead. If you found the coin/charm, you would enjoy good luck but if you found the bean then you would have to pay for the next bolo-rei.
Nowadays, due to choking concerns (or people breaking their teeth!), this practice is banned.
The average Portuguese person probably consumes at least two bolos-reis during the Christmas season! So come on over, buy two, one to eat warm (straight from the oven) as you exit the bakery and one to eat later at home, or the next day if you can get it to last that long.
Immerse yourself in Portuguese traditions, invest in a home in Portugal. Let the team at Berkshire Hathaway HomeServices Portugal Property be your trusted guide. Contact us now - info@portugalproperty.com or call us on +351 308 800 878 or 0800 014 8201 free from the UK.
Published in: Site news / Property for Sale in Portugal / Property / Portuguese Life / Portugal Property / News and Updates / Guide to Portugal