Portuguese cafe culture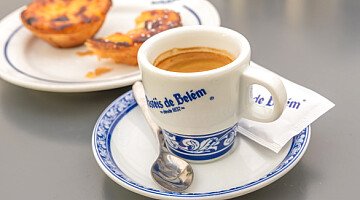 From early in the morning until late at night, the Portuguese can be found sipping coffee at their local café. Portuguese coffee is one of the best in the world! So, what to order? If you like a short, sharp shot of coffee, then a 'bica' is for you – similar to an espresso. If you prefer a small coffee with milk then a 'meia de leite' – half milk – is the one. However, the favourite, if you like something like a latte, is the 'galao' which is served in a tall glass made with steamed milk and espresso! 

According to the experts, adding steamed milk to coffee intensifies the flavour, giving it a rich, velvety texture and removes the bitterness of the coffee.

These are just a small selection of coffees available – whichever you choose, it wouldn't be the same without the pastry of choice for the locals – a 'pastel de nata' a type of egg custard tart.

They have a fascinating history! The recipe for this countrywide favourite dates back over 300 years to Belém, in Lisbon. Pastéis de Nata were created by monks in the Jerónimos Monastery, now a UNESCO World Heritage Site. At that time, the nuns and monks used egg whites to starch their clothes, and the leftover egg yolks became a major ingredient in desserts. Next to the monastery, there was a sugar cane refinery connected to a small shop. Because of the 1820 Liberal Revolution, all Portuguese convents and monasteries were closed down and consequently, all workers and clergy were expelled from them. In an attempt to survive, someone from the Monastery placed sweet pastries for sale at the small shop, which quickly became known as "Pastéis de Belém" (Belém Pastries) given the location where they were sold and the recipe remains exactly the same to this day!

The Portuguese gather to talk, read the paper, watch the ever-present television suspended on the wall, and visit neighbours at all hours. Cafes are the glue of the community – imagine being a part of that and calling Portugal your home...

Contact our knowledgeable and professional team of Property Advisors to discuss your requirements. Telephone 0800 014 8201 free from the UK or +351 308 800 878. Alternatively, email us on info@portugalproperty.com.
Published in: Site news / Property for Sale in Portugal / Portuguese Life / Portugal Property / News and Updates / Guide to Portugal