Feliz Páscoa – Happy Easter!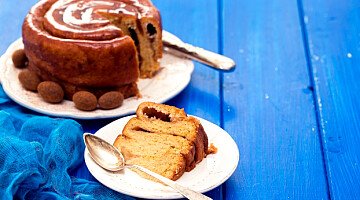 Folar de Páscoa
Easter in Portugal is about having days-off and a relaxing time in the warm spring sunshine with family and friends – food playing a big part of the celebrations. With a strong Catholic heritage, Easter (in Portuguese 'Páscoa') festivities are relatively low-key, at least as far as the religious aspect is concerned.

Portugal's cuisine is as rich and varied as its landscape. Tradition says the faithful should abstain from eating meat – although some priests nowadays say it's not compulsory, recommending some type of fasting as a sign of penitence for Christ's suffering. As in many other Catholic countries, the tradition prompted the Portuguese to seek alternative nourishment and the choice was fish, especially the famous codfish known as 'bacalhau' served on Good Friday. Roast lamb is usually eaten on Easter Sunday, a heritage from the Jewish tradition which celebrates the Hebrews' exodus from Egypt and the sacrifice of the lambs in the story of their flight to freedom.

One food typical of Easter is the 'folar de Páscoa', a type of a sweet bread, resembling cake, very characteristic because of the eggs boiled in their shell and incorporated into the dough - this represents rebirth and the resurrection of Christ. In the Algarve the 'folar' is eaten sticky sweet, making it cake, with several layers of delicious melted sugar, cinnamon and caramel!

Other tempting treats that are likely to adorn the Easter table in Portugal include marzipan sweets and cakes made from figs, oranges, almonds, carob or pumpkin as well as sweet rice pudding. Of course, chocolate eggs in various forms, plus caramel, chocolate or sugar covered almonds are the favourite sweet snacks during Easter.
 
Published in: Travel / Site news / Property for Sale in Portugal / Portuguese Life / News and Updates / Guide to Portugal