Summer is here!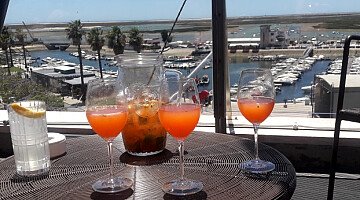 If there's a wine style which is firmly associated with summer and the holiday spirit it has to be all-shades-of-pink rosé!

Rosé wine, known here as Rosado, is made from a wide variety of grapes, and may be one of the oldest known types of wine. 

Made by incorporating some of the colour from the grape skin, but not enough to qualify it as a red wine, the colour of rosé wine can range from a pale orange to a vivid near purple. It all depends on the grape varieties used and the winemaking techniques. In fact, there is no Portuguese region where rosé wine is not made.

Usually, rosé wines have a light acidity, low alcohol content and a light body, making it the perfect barbecue wine, the perfect beach wine and the perfect drink with friends at any time wine!

For most people in the '70's, knowledge of Portuguese wines really was only Mateus Rosé (pronounced mateyeush) First launched in 1942, today, it still continues to outperform the market in the rosé category. It is billed as being a 'fresh and seductive wine with a fine and intense bouquet and all the joviality of young wines. In the mouth, it is a well-balanced and tempting wine, brilliantly complemented by a soft and slightly fizzy finish' – so what's not to like?!

Also don't forget rose sangria – a refreshing fruity drink for lazy afternoons and long lunches.

Try other quality rosé wines from any of the many local producers here in the Algarve – such as Marques dos Vales Primeira Selecao from Quinta dos Vales – a small wine estate in the west of the Algarve near Lagoa – just as long as you serve it ice cold!
Published in: Travel / Site news / Property for Sale in Portugal / Portuguese Life / Portugal Property / News and Updates / Guide to Portugal