Michelin and Portugal: A Match Made in Diners' Paradise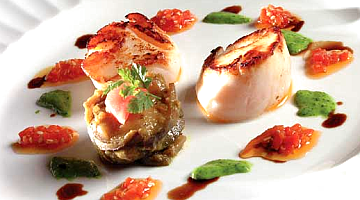 Fine food in Portugal
The cuisines of Portugal has always elicited ohs and ahs from its local patrons, expatriates, and tourists for good reasons. Bacalhau, pata negra, Azores caviar, caldo verde and pastel de nata – these are just a few of the local favorites that, when combined with the ethnic and international cuisines in the country, more than satisfy the palate.
And then there are the Michelin-rated restaurants in Portugal that take fine dining to a whole new level of sumptuousness and sweetness!
Winners and Losers
In the 2014 Michelin Guide, twelve restaurants in Portugal have been awarded the prestigious Michelin stars. The latest guide was presented to Spain and Portugal on Wednesday at the Guggenheim Museum in Bilbao, Spain, said presentation of which had chefs, food critics and journalists in the audience.
The winners included Ocean Restaurant in Lagoa and Vila Joya in Albufeira, both of which were awarded two stars. These two restaurants retained their stars from 2013 – truly, a sign of their commitment to excellence.
Other restaurants that are keeping their coveted Michelin stars are Feitoria and Belcanto, both in Lisbon); Willie's in Vilamoura, Fortaleza do Guincho in Cascais, Il Gallo d'Oro in Funchal, Henrique Leis in Almancil, Casa da Calçada in Amarante, and The Yeatman in Vila Nova de Gaia.
A new entrant is L'And Vineyards in Montemor-o-Novo, which was awarded a Michelin star for the first time, thanks to the impressive efforts of its chef, Miguel Laffan. An old yet new entrant is Restaurant Eleven in Lisbon, which previously lost its star in 2012 but regained it for the 2014 Michelin Guide.
But where there are winners, there are restaurants that lost their Michelin stars. An restaurant in Almancil lost its star but considering the immense talents of the Portuguese in the kitchen, it may well make a grand entry for the succeeding year's Michelin Guides.
Excellence in Dining
Let's take a look at a few of the winners in the 2014 Michelin Guide. You should visit and enjoy the food in these restaurants when you come a-visiting Portugal soon!
The Ocean, with its chef Hans Neuner, offers its diners its original, delicate and delicious dishes that have been raved about by gourmets and gourmands alike. Chef Neuner is well-known for his attention to detail, his creative touches, and his commitment to the perfection of culinary techniques. Plus, the restaurant's elegant yet relaxing ambience certainly adds to a great dining experience in Lagoa.
Vila Joya, under the able direction of Dieter Koschina, is widely considered as a gastronomic paradise by its loyal patrons, not to mention that its amazing seaside views add to the dining experience in the most delightful ways. Diners can choose from classic dishes and innovative cuisine – or perhaps combine both for a gastronomic adventure!
Willie's has a cozy dining atmosphere but don't be fooled by its relaxed ambiance. Only the freshest ingredients and the best culinary techniques go into all of the dishes and desserts so much so that once is never enough.
Why so much ado about the 2014 Michelin Guide in particular and the Michelin stars in general? In the restaurant industry, being awarded a Michelin star is akin to receiving an Academy Award for movies or a Tony Award for theater.
To put it simply, even a single Michelin star on a restaurant places it on the map for gourmets and gourmands!
Published in: Portuguese Life / Health