Anne Sadler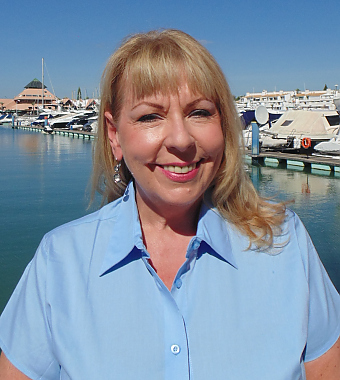 Marketing Executive
Background
Along with my husband, I have owned a property in the Algarve for the last 15 years. We have generated good income from renting it out during the Spring - Autumn whilst enjoying holidays with our 'children' (who are now 26 and 22!)
It became increasingly difficult to leave each time until we finally decided we could change our lifestyle  and 'live the dream'! So here we are - we moved over here permanently in October 2015.
My background is in sales and sales management - specifically publishing - it's what I've done since I was 18 so a very long time!!! I believe that people should never be sold to, only genuinely want to buy.
What do you like most about Portugal?
I have been in love with everything about Portugal since our first visit some 30 years ago. I love the climate, the food, the beaches and especially the pace of life.  The people are all very warm and friendly -  they truly have sunny dispositions - oh and where  else can you sit outside on a warm evening with a delicious glass of vinho verde in October!!!
Why do you like working for Berkshire Hathaway HomeServices Portugal Property?
Ok, so I'm still the 'new girl'. But without sounding corny, Berkshire Hathaway HomeServices Portugal Property has everything I wish I had known about buying in Portugal when we bought our home here. There is an absolute wealth of unbiased information about the whole process of buying/selling from start to finish. And all the team genuinely care about the people we work with - it's just exciting to be a part of such a dynamic company.
What do you like to do when you are not working?
When I'm not working, I like nothing more than walking my dog Harley along Faro beach - the exhilarating Atlantic never ceases to fascinate me.