What are you doing this weekend?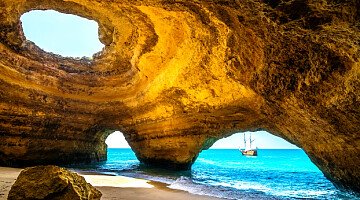 Benagil Cave
Whilst much of Europe is experiencing freezing cold temperatures, here in the Algarve we are taking a little hike in the sunshine near Carvoeiro, along the Seven Hanging Valleys Trail – cliff tops that were formed over millions of years which dominate the landscape.

This winding and fragrant trail sits high above glorious sandy beaches - from Centeanes in the west to Praia da Marinha in the East. The Seven Hanging Valleys were previously rivers, formed when the limestone coastline was rapidly eroded.

Some of the highlights along the route include getting up close to the lighthouse and seeing some of the beaches from above that can only be accessed by boat.

Praia da Marinha is considered by many to be one of the most stunning beaches in Europe; from up on the trail you can see a vast range of outstanding landforms such as stony arches, natural bridges, caves, grottoes and sea stacks where seabirds rest and nest. At the bottom, the contrasting palette of the turquoise ocean, golden sandy beaches and the craggy cliffs create a typical Algarvian sun-kissed seascape.

Perhaps the most famous landmark is the light filled dome of Benagil Cave – featured in top destination lists and "places you have to see" – it can be accessed via boat from either Carvoeiro or Armacao de Pera beaches.

The route itself is enhanced by frequent information boards in Portuguese and English about the geology, flora and fauna. It is an 11.4 km walk if you go from one end to the other and back, but it can be done in short sections if you so desire, but sturdy trainers are essential!
Published in: Travel / Site news / Property for Sale in Portugal / News and Updates / Guide to Portugal