Vilamoura Boat Show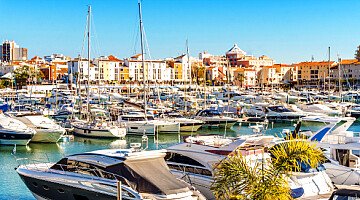 The Vilamoura Boat Show returns this year from the 10th to the 18th of June and is now in its 26th year.
This outdoor show is free to attend and will feature a selection of new and semi-new boats, on land and at sea, as well as accessories, equipment and boat service brands. The show will allow visitors to directly experience the products, compare like-for-like and enjoy what's on offer with personalised service in complete comfort and safety. The show is expected to attract a range of visitors from near and afar. All this is combined with the glamorous lifestyle that is enjoyed in the Algarve.
Vilamoura is one of the most luxurious resorts in the Algarve, concentrating on a wide range of tourism and leisure options.
The Marina has 825 berths and it is the largest and most exemplary Marina in Portugal, having received several international awards and occupying a place of reference in the national and international recreational boating scene.
Vilamoura is about location, lifestyle and enjoyment. The Marina is surrounded by bars, terraces, a casino, restaurants and shops which liven up the area 365 days a year. It is contemporary, relaxed and chic. Vilamoura provides an exceptional selection of sports, entertainment, leisure and outdoor activities, not to mention magnificent golden sandy beaches.
It is the stage for numerous internationally renowned sailing competitions, much sought after by lovers of deep-sea fishing, windsurfing, jet-skiing, parasailing, diving and high-competition athletes who choose this destination to carry out their training in low season. It is also from here that several cruises and boat trips depart.
This Marina is proud to be one of the first in Portugal to receive the Quality and Environment Management System certification. The certification joins the European Blue Flag for Marinas and Recreational Ports and the 5 Anchors Award awarded by The Yacht Harbour Association.
The Vilamoura Marina International Boat Show is open to the public from 11:00 am to 9:00 pm.
To find out more about investing in property in Vilamoura, contact our friendly and knowledgeable team of Property Advisors – email: hello@PortugalProperty.com or call us: +351 308 800 878 or 0800 014 8201 free from the UK.
Published in: Guide to Portugal / Miscellaneous / Portugal Property / Portuguese Life / Travel