Urban Art In Lagos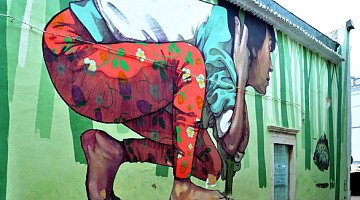 Lagos
Lagos in the west of the Algarve is a city that boasts a rich seafaring heritage, a coastline of dramatic natural scenery, a world-class marina, cute cobbled lanes, picturesque piazzas - and a plethora of street art..!

This beautiful fishing town owes the exciting street art scene to the local council and to LAC (Laboratorio de Actividades Criativas), a cultural association that since 2011, has organised a project to bring some of Europe's best-known street artists to live and work temporarily in Lagos. They are literally encouraged to paint the town red – and any other colour they fancy! Whilst in the past some may have thought of the work as graffiti, these amazing works are far from it – this town is dedicated to artistic experimentation.

The designs are on the streets, on billboards, on façades and large walls, often giving derelict buildings a new and thought-provoking image. Lagos is truly an open-air gallery, where prominent artists from around the world have given life and colour to hidden-away places, using various techniques and messages, each telling its own unique story.

Lagos is nestled in the wild, wild western Algarve, often seen as one of Portugal's underdeveloped regions. The area surrenders to the power of the Atlantic with the coast fringed by extravagantly eroded cliff faces sheltering a series of tiny cove beaches – themselves a natural work of art created by the environment.

This is an amazing place to call home or to invest in a second property. Contact our knowledgeable and professional team to find out everything there is to know about buying in Lagos, or anywhere else in Portugal. There's a whole world of art to be discovered in Portugal - find out more: info@portugalproperty.com or call us on +351 308 800 878 or 0800 014 8201 free from the UK.
Published in: Site news / Property for Sale in Portugal / Portuguese Life / News and Updates / Guide to Portugal