Unique homes 50 minutes from Lisbon – GV qualified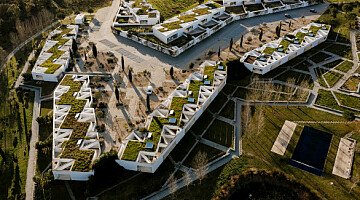 Published on
Are you an investor or new home buyer looking for an easy-access lifestyle, living in nature but with 5-star amenities? Where you have assistance growing your own grapes and creating your own wine? Then we are pleased to be able to offer luxurious, bespoke homes in an outstanding nature resort by L'AND Vineyards.
This reputable company was established in the second half of the 19th century and originally operated in agriculture. Since then it has diversified its activity toward tourism. L'AND opened their boutique hotel in 2011 and have sold 64 residential units, which have received several national and international awards.
Located in Montemor-o-Novo, in the heart of the Alentejo, but just 50 minutes from Lisbon and 20 minutes from Évora – a World Heritage Site by UNESCO. One of the best wine regions in the world with wild beaches, an amazing landscape with oaks, vineyards, olive groves and orangeries and a culture crafted by Neolithic civilizations - Phoenicians, Romans and Moors.
The vineyard and wine culture are more than landmarks in the landscape and the Wine Club is the unifying element of L'AND´s life. Imagine having your own vineyard, creating and producing your own wine in the resort´s cellar and participating in wine events, including the annual harvest party.
L'AND offers all owners a menu of services to ensure maximum enjoyment and comfort at all times. In the main cluster are the reception, the restaurant, the wine bar, the SPA and the swimming pool. It is also possible to enjoy catering services, cleaning, garden and pool maintenance and vineyard management, among others.
These breath-taking residential areas are named after grapes of the region:
ALICANTE BOUSCHET Cluster: these villas are designed by Sergison Bates and each unit is organised around a central patio, open to the landscape and the sky, which is the "heart" of the house, in the style of ancient roman villas. PP173007
TOURIGA FRANCA Cluster: these villas are designed by Peter Märkli, located on the highest hill of the resort, with unique views over a valley with vineyards, the serene plains of oaks and the castle of Montemor-o-Novo. A palatial living room, with very high ceilings, connects to a covered outdoor patio and a large swimming pool. PP173018
CABERNET Cluster: with a unique location, in a century-old olive grove, overlooking the castle and city of Montemor-o-Novo, a plot of land for the free construction of a house. PP173019
All villas qualify for the Golden Visa Scheme
To find out more about these properties, contact our knowledgeable team of Property Advisors: email: hello@PortugalProperty.com or call us: +351 308 800 878 or 0800 014 8201 free from the UK.
Download our magazine 'At Home' Berkshire Hathaway HomeServices Portugal Property
Join us for a Live Golden Visa Webinar  - Thursday 22nd September 2022 – 18.00h GMT – an event not to miss! Spaces are limited so please register your interest now to avoid disappointment.
Published in: Business / Guide to Portugal / News and Updates / Portugal Property / Property / Property for sale in Portugal / Site News