The last paradise in the Algarve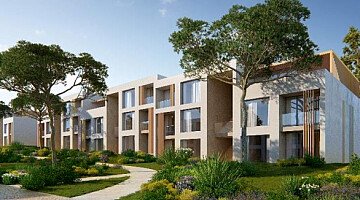 If you are looking for a permanent or a holiday home in the Algarve, away from the hustle and bustle but close to nature and the sea, then the Verdelago Resort, which is nestled in a unique location on the eastern Algarve coastline, is the perfect solution.

Just 45 minutes from Faro International Airport and 2 km from Via do Infante, it is close to everything. Visit cities such as Tavira, Vila Real de Santo António, Castro Marim, Alcoutim, or venture to Spain and visit Seville, which is just an hour and a half away. This area boasts a privileged climate and the Verdelago Resort is the only 5-star nature resort to be built on the coast of the Eastern Algarve. It enjoys an area of more than 80 hectares, with direct access to the beach via boardwalks - Verdelago Resort is in complete harmony with nature, with the project having a low construction density of just 8.7%.

There are numerous services and amenities available, including a hotel, restaurants, bars, terraces, a local produce market, swimming pools, sports complexes and equipment, tennis courts, a children's club, beach support, walking trails, home care services, babysitting and an environmental interpretation centre, amongst others.

This unique and exclusive luxury development on the seafront has a range of living options. One, two and three-bedroom Apartments from €500,000, two and three-bedroom Townhouses from €840,000 and 4 + 1 bedroom Villas with plots of between 1,400 and 1,817 m⊃2; are from €1,750,000.

If you just want to invest, real estate continues to have one of the highest rates of return in Portugal. The unique, highly desirable location of Verdelago Resort and its superb construction makes it superior to other resorts in the Algarve. The tangible value of this development equates to a safe investment with a guaranteed return of 5% in the first 5 years.

You can, of course, choose to enjoy the resort and your property during holiday periods and in the remaining periods of the year, lease your property as tourist accommodation.

Perfect for the Non-Habitual Resident regime which offers tax benefits for 10 years to those who apply for tax residency in Portugal or for those seeking investment property to qualify for the Golden Visa Scheme.

To find out more about this incredible resort, speak to our knowledgeable and professional team of Property Advisors - info@portugalproperty.com or call us on +351 308 800 878 or 0800 014 8201 free from the UK.
Published in: Site news / Portuguese Life / News and Updates / Guide to Portugal