The finest views in Portugal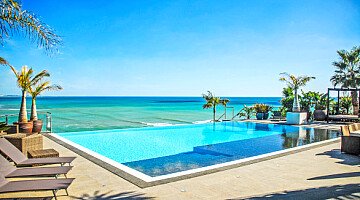 Published on
A lottery winner's dream home! Probably one of the finest properties enjoying the most enviable location in Portugal.
This villa is nestled on a cliff with simply magnificent views over the Atlantic Ocean with the sprawling Algarve coastline at its feet. Not only does this villa have the location, but it is also finished to the highest possible standards in finishes, technology and style with the interior currently being completely renovated and ready by December 2023.
The property is fully fenced and upon entering through the automatic gates, there is parking and direct access to the garage and the handsome front entrance. The hall is a grand and most impressive entrance. From here one is drawn into the open-style reception rooms, where one can stand and admire the sea views. The open-plan kitchen, dining room, living room and office all face the sea and the views fill these already beautifully decorated rooms.
The master suite is exceptionally large and also has magnificent views, as do three of the other bedroom suites, located on various levels of the house. There is also a basement with further guest accommodation, and spa facilities, as well as staff quarters with their own entrance.
To fully appreciate the outdoor lifestyle of the Algarve, the property not only has a beautifully landscaped garden with a pool and Jacuzzi but also an entertaining area with a fully equipped kitchen.
Features include * Five bedroom suites, * Guest cloakroom, * Modern fitted and equipped spacious kitchen, * Under-floor heating and air conditioning, * Double garage, * Solar panels, * Firepit, * Infinity swimming pool, * Grand entrance hall, * Open-plan living and dining areas, * Office, * Basement with additional staff quarters, * Sauna/steam room, * Fully equipped outdoor dining/entertaining area, * Jacuzzi, * Fully fenced with automatic gates.
This property is undeniably a real jewel in the heart of the Algarve.
Reference PP509
Berkshire Hathaway HomeServices Portugal Property is a multiple award-winning agent and part of one of the world's most trusted and respected corporations. To find out more about investing in a property in Portugal, contact our team of knowledgeable and professional Property Advisors - hello@portugalproperty.com or call us on +351 308 800 878 or 0800 014 8201 free from the UK.
Published in: Guide to Portugal / Miscellaneous / Portugal Property / Property / Property for sale in Portugal