The Algarve 'cheapest in the Eurozone for holidaymakers'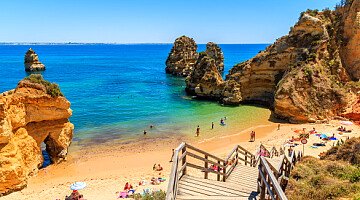 Algarve
Not only is Portugal one of the few holiday destinations on the green list for British travellers, but the Algarve is now the cheapest in the Eurozone.

For the fourth year running, the Post Office Travel Money research in conjunction with national and regional tourist boards has found that holidaymakers can expect to pay less for meals, drinks and other tourist staples in many of the world's most popular resorts and cities. The 15th annual Worldwide Holiday Costs Barometer has found that prices have fallen in over three-quarters of the destinations surveyed.

Sunny Beach, Bulgaria is the cheapest of 46 destinations surveyed, for the fourth consecutive year, with Portugal's Algarve experiencing a 16.5 per cent fall in barometer costs helping consolidate its position as the Eurozone's cheapest resort area.

The Algarve ranks third in the top 10 for 'cheapest holiday destinations' behind Sunny Beach in Bulgaria, and Marmaris in Turkey.

The Post Office barometer monitors the price of eight typically tourist items: a three-course dinner for two with a bottle of wine, a range of soft and alcoholic drinks, sun cream and insect repellent.

In Bulgaria, the cheapest place, the items will set tourists back €32. In Turkey, the cost would be €43 and in the Algarve €51.

As travel reopens, this will see an even greater demand for holidays in the Algarve and Portugal generally. The Portuguese government has announced a €6Bn plan to kick-start Portugal's decimated tourism sector. This means there could be a shortage of holiday homes, so why not capitalise on the boom and make your money work for you by investing in property in Portugal.

Contact our friendly and knowledgeable team of Property Advisors on info@portugalproperty.com or call us: +351 308 800 878 or 0800 014 8201 free from the UK.
Published in: Travel / Site news / Property for Sale in Portugal / Portuguese Life / Portugal Property / News and Updates / Guide to Portugal