Surf the Silver Coast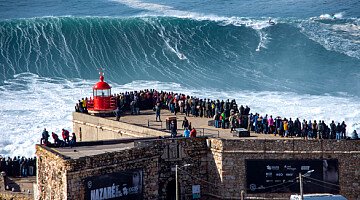 Nazaré
Portugal is most famous for its temperate climate, excellent food and wines, stunning beaches and warm hospitality, but these shores are blessed with super swell and good waves making it an idyllic destination for surfing.
There are around 300 surf schools registered at the Portuguese Surf Federation and with 600 miles (965km) of beaches – whether you're a beginner or an experienced surfer - you can catch waves of all sizes every day of the year.
From late winter to early spring is the best time to catch wetsuit-clad surfers in the water. The summer's waves are smaller and less exciting for more experienced surfers, but they may be better for surfing newbies looking to dip their toes in the water and get on a board for the first time.
You can surf in pretty much every region of Portugal – from south to the north: Algarve, Alentejo, Lisbon, Ericeira, Peniche, Beira and Porto, but the Silver Coast, about an hour north of Lisbon is known as a surfer's paradise!
One of the most famous spots for surfers is the small fishing town of Nazare. Here there is a giant wave spot that was created by a 16,000-foot deep underwater canyon – its colossal waves are just perfect for extreme surfers as the waves swell to the size of large buildings! The deadly waters were originally considered too dangerous for local surfers until an American named Garrett McNamara couldn't resist the pull of the monster waves. In 2011, he set a world record by riding a wave that measured 78 feet. The record stood for seven years until, in May 2018, Brazilian Rodrigo Koxa surfed a wave that was officially measured at 80 feet.
So imagine being able to surf on your doorstep – there really is no better time to invest in your very own Silver Coast holiday home – and practice catching the waves! Contact our knowledgeable, local team at info@portugalproperty.com or call us on +351 308 800 878 or 0800 014 8201 free from the UK.
Published in: Guide to Portugal / News and Updates / Portugal Property / Portuguese Life / Property for sale in Portugal / Site News / Travel