Spectacular New Lagos Office Now Open
Published on 8th September, 2014 by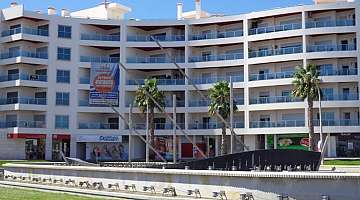 With historic authenticity combined with the vibrant and cosmopolitan lifestyle, Lagos is one of the top locations in the Algarve for property buyers. Lagos offers a balance of the charm, history and traditions of the Portuguese culture with a blend of beautiful beaches, bustling markets. shops, bars, restaurants and a fabulous marina.
As a result of our expertise, award winning website and our attention to our clients' needs Portugalproperty.com has continued to see an increase in our success in the Western Algarve and we are therefore proud to announce the opening of our newest office in the heart of this beautiful town. This allows us to continue providing both our clients and vendors with the very best service they have come to expect. Situated in a prestigious and highly visible location, our new office is located on the "Boat Roundabout" at the entrance to Lagos, offering ample free parking to the rear of the office, on Rua Dr José Francisco Tello Queiroz and friendly staff ready to welcome you and assist in your property search. The Western Algarve team includes our Property Consultant Natascha Hunt who is responsible for the region. Just recently she sold a property to a lovely family who had the following to say "Natascha has worked her "magic" for us. We are very happy with our new home in the Algarve." They found Natascha "friendly, professional and personal." Ian and Becky Clarke, August 2014. Responsible for listing property in the area is Maureen Goldring our Property Promotions Consultant Maureen Goldring and Laura Amador the Administrator and Receptionist. Together these three ladies make a dynamic team with outstanding and professional customer service, multi-lingual skills and local expertise.
Due to our considerable success and increased number of sales so far this year we currently have more buyers than sellers, and therefore we would like to hear from you if you have a property for sale in Lagos, Luz, Burgau, Alvor, Carvoeiro or Ferragudo.
We especially want to hear from you if you have a new or quality resale property in good or excellent condition in these areas and in the following price ranges: villas from 400,000 - 3,000,000 euros townhouses from 200,000 euros - 450,000, apartments from 200,000 - 500,000 euros.
Our Property Promotion Consultant Maureen Goldring will be pleased to assist and advise you on selling your property with PortugalProperty.com with our vast database of active clients and our multi award winning website.
Contact Maureen on (+351) 914 297 358 or email -maureen.goldring@portugalproperty.com. We have many clients willing and able to buy, we just need your property!
For any more queries on buying or selling property in Portugal please don't hesitate to contact us on (+351) 308 800 878 or email - info@portugalproperty.com.
Published in: News and Updates