Reduced for quick sale – 5* penthouse in Porto!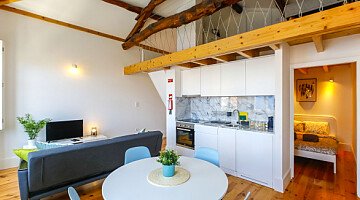 Imagine owning a luxurious penthouse apartment on one of Porto's most famous streets!

This charming 2 bedroom apartment, located in the heart of Rua de Santa Catarina has had a bank valuation of €320,000 but the vendor is happy to accept offers over just €260,000!

Modern on the inside and finished to a very high standard, this mezzanine apartment is bright due to plenty of natural daylight gifted from a beautiful skylight, a symbol of the old bourgeoisie style of the city. The pine hardwood floors give the apartment a nice homely feeling while the wooden beams reflect an aura of true rustic craftsmanship.

The large windows allow plenty of natural light and keep it peaceful and serene – the apartment really is an authentic gem!

Rua de Santa Catarina is Porto's main shopping street in the centre of the city and also the most visited street in Portugal, attracting visitors from all over the world. This 2 bedroom apartment is the perfect opportunity for investors. Finished to the highest standard, equipped with a fixed kitchen and two bathrooms, this apartment is perfect for short-term rentals and can host two couples for a comfortable stay.

The history of Rua de Santa Catarina begins at Capela das Almas, the beautiful blue-tiled church dedicated to Santa Catarina de Alexandria. Its style is breath-taking as are the architectural details of both the facades of the buildings in the street and the typically Portuguese sidewalks.

Rua de Santa Catarina is considered a prime zone for both for high-street retail and tourism, shops, cafes and traditional street sellers.  You will also find the Café Majestic which dates back to 1921 and is among Europe's elite cafes with its glorious design. Don't even try to resist the mouth-watering patisseries or the freshly baked bread as it's a true Portuguese experience!

Just a 5 minutes' walk to Avenida dos Aliados, a short walk to Bolhão's metro station and approximately 4 minutes from Trindade's metro station (the only metro station where all the lines meet and a direct line to Porto airport).

This apartment is now open to offers for a quick sale – early viewing is highly recommended!

Find out more by contacting our knowledgeable and professional team of Property Advisors - telephone 0800 014 8201 free from the UK or +351 308 800 878. Alternatively, email us on info@portugalproperty.com.
Published in: Site news / Property for Sale in Portugal / Portuguese Life / Portugal Property / News and Updates / Guide to Portugal