Portuguese 'firewater'!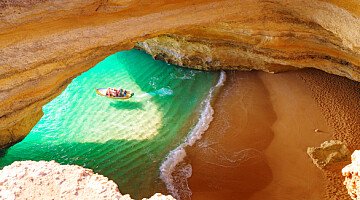 Aguardente de Medronho is a traditional Portuguese fruit brandy, obtained from arbutus berries - the fruit of the Medronho tree, or to give it its scientific name, the Arbutus Unedo. It is also called the strawberry tree as the fruits resemble strawberries. The Arbutus Unedo grows wild on poor soils in rural regions of Portugal, especially in the south.
Medronho, as it is traditionally known, is thought to have been produced for the first time in the 10th century by Arabs in the Monchique area. It is still produced in the traditional way, using low heat and copper stills with fine, coiled pipes. Genuine Algarve Medronho, with Protected Geographical Indication, is a quality product, with certified distilleries and specific market brands, it is known as the Spirit of the Algarve.
Until the 21st century, there was no large-scale commercial growing of the strawberry tree as in the past, the berries were hand-picked by local farmers and processed at home. It takes 7-10 kilos of these berries to make one litre of the precious liquid. Good Medronho was not easily found in supermarkets but instead bought mostly directly from these farmers. Very few farmers had a license for distillation, but they were tolerated by the authorities to keep this traditional Portuguese speciality alive.
Medronho is often called 'firewater' by non-Portuguese speakers. 'Agua ardente' is Portuguese for burning water, as when the usually clear-coloured Medronho is drunk – in small shot glasses not surprisingly – there is a burning sensation as it travels down your throat!
Nowadays, Medronho production is considered to be an important regional craft of the Algarve.
Sample this unusual beverage on your next trip to find your home in the Algarve - contact our qualified team of
Property Advisors to discuss your needs - hello@PortugalProperty.com or call us: +351 308 800 878 or 0800 014 8201 free from the UK.
Published in: Guide to Portugal / Miscellaneous / Portuguese Life