PortugalProperty.com win again!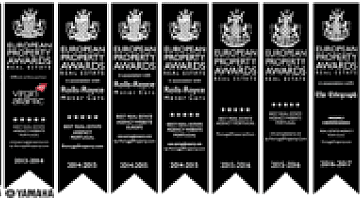 International Property Awards
At a glittering black tie event in London's Mayfair last month, the winners of the European Property Awards were announced. PortugalProperty.com is delighted to have won the award for the Best Real Estate Agency category in Portugal and also the award for the Best Real Estate Agency Website category in Portugal.

The awards, part of the International Property Awards, are open to residential and commercial property professionals from around the globe. They celebrate the highest levels of achievement by companies operating in all sectors of the property and real estate industry. An International Property Award is a world-renowned mark of excellence.

The awards are split into regions covering Africa, Asia Pacific, Arabia, Canada, Caribbean, Central & South America, Europe, UK and USA. Participants enter at their relevant national level and are judged by a highly respected and experienced team of industry professionals who cover the whole range of property disciplines.

So as this is the seventh year in a row that we have been chosen to win these prestigious awards, find out first hand why we are the best…
Our property consultants are professional, educated and knowledgeable and have many years' experience living in Portugal and working in real estate
Our property consultants have detailed knowledge of each area and can offer advice and assistance on all matters relating to buying property in Portugal
We offer a first class, expert and friendly service
All phone calls are returned within a day
Emails are always answered within 24 hours
We give honest, trustworthy and independent advice
We can introduce you to professional leading financial organisations, banks, mortgage departments, financial advisors and multilingual lawyers
Our team of experts are totally dedicated to help turn your dreams of owning a property in Portugal into a reality.
Published in: Site news / Property for Sale in Portugal / Property / Portuguese Life / Portugal Property / News and Updates / Guide to Portugal / Business