PortugalProperty.com honoured as PME Leader 2017
Published on 8th June, 2017 by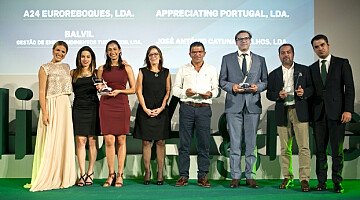 PME Leader
PortugalProperty.com is very proud to have been awarded the distinguished PME Leader status 2017 - a public recognition of superior performance promoted by the Portuguese Ministry of Economy through the IAPMEI (Institute of Support to Small and Medium-Sized Enterprises and Innovation).

Leader status is assigned by IAPMEI and Tourism of Portugal, together with 11 partner banks and is based on a company's financial rating and economic status. It is awarded to companies with superior performance and it publicly recognizes the success of a company's business growth strategy as well as the importance of its contribution to the national economy.

So, when considering purchasing your dream home in the sun and numerous real estate agents to choose from, how do you decide which one you can trust to provide independent, objective and first class service? Chose PortugalProperty.com as we hold all the necessary professional qualifications and memberships of trade associations, which means that we are tied to a strict code of conduct when dealing with members of the public. This latest award reinforces our financial security.

And with the news that the Global Peace Index 2017, published last week, found Portugal to be the third most peaceful country in the world, don't wait any longer - purchase a property in a peaceful country through Portugal's leading, most trusted, award-winning agent!
Published in: Site news / Portuguese Life / Portugal Property / News and Updates / Business