Portugal welcomes ex-pats!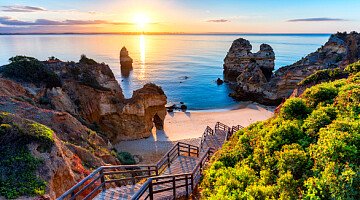 Every year, InterNations, an international networking site, asks thousands of ex-pats to evaluate their quality of life abroad. It then compiles the results into a ranking of the best (and worst!) destinations for people seeking to live and work overseas. This year's 'Expat Insider' surveyed 11,970 ex-pats, who represent 177 nationalities and live in 181 countries.
The prevalence of remote working makes it much easier for people to live in a foreign country, especially so for Portugal with its good internet connectivity.
Portugal came in 4th place for where ex-pats feel most at home, with only Taiwan (3), Indonesia (2) and Mexico (1) with better conditions for 'feeling at home' for ex-pats.
The countries that were the least ex-pat friendly were Kuwait (52), New Zealand (51), Hong Kong (50) and Cyprus (49).
In terms of lifestyle, Portugal also came in 4th place and over 25% of ex-pats who moved to Portugal did so for that reason.
Moreover, the majority of those canvassed think that the Portuguese people are generally friendly and Portugal is in the top 10 countries where it is easiest to set up.
One of the main reasons for ex-pats to feel at home is the low cost of living, the 8th lowest according to the survey. Nevertheless, just 63% are satisfied with their financial situation since over two-thirds earn less than the world average. Moreover, 25% do not feel they get a fair salary based on their work, qualifications and position in the company, which of course means that 75% do feel they get a fair salary!
Over 25% of foreigners living in Portugal are retired and of those who do work, 34% work part-time, double the world average.
Find out more about calling Portugal your home (or second home!) Contact our knowledgeable team of Property Advisors: email: hello@PortugalProperty.com or call us: +351 308 800 878 or 0800 014 8201 free from the UK.
Download our magazine 'At Home'
Berkshire Hathaway HomeServices Portugal Property www.PortugalProperty.com
Published in: Miscellaneous / News and Updates / Portugal Property / Press Releases / Property / Property for sale in Portugal / Site News