Portugal – the friendliest country in the world!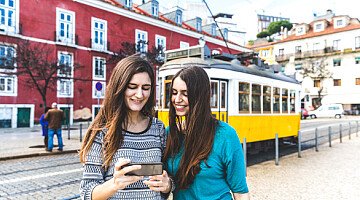 InterNations is the largest international community for people who live and work abroad. It offers global networking opportunities, local events and expat-relevant information.
Each year, they carry out the Expat Insider survey, which is an attempt to rank countries by the friendliness of the local population towards foreign residents, the ease of making local friends and whether ex-pats were likely to stay forever.
Portugal, Taiwan and Mexico top the table when it comes to the friendliness of the local population towards foreign residents, but ex-pats can expect a frosty welcome in Switzerland, Austria, and Kuwait, according to the respondents of the Expat Insider survey.
For the first time ever in the Expat Insider survey, Portugal claims the top position as the country with the friendliest attitude towards foreign residents — relegating Taiwan and Mexico to second and third place.
Additionally, ex-pats can expect a warm welcome in Cambodia, Bahrain, Costa Rica, Oman, Colombia, Vietnam and Canada: between 81 (Canada) and 94 per cent (Portugal) rate the local population's attitude towards foreign residents positively in these countries, which is far above the global average of 67 per cent. Moreover, in each of these destinations, local residents are perceived to be welcoming (from 62% in Canada up to 86% in Colombia) rather than distant. It seems like the friendly atmosphere may have a positive impact on the overall satisfaction with life abroad: aside from Cambodia (22nd), all destinations rank among the top-15 countries for that factor.
Portugal has climbed nine places to claim the title of the friendliest country for foreign residents worldwide. The sunny country offers an equally warm welcome to its ex-pats, with 36 per cent of respondents saying they felt at home straight away — nearly double the global average (19%).
When asked if they would possibly stay in Portugal forever, almost half (47%) said yes.
According to a Dutch ex-pat, the Portuguese "look after each other". Close to four in five ex-pats (79%) regard the Portuguese as welcoming and almost a third (29%) say that local residents make up the majority of their friendship group — a figure much higher than in the average global ex-pat circle (19%).
Read the full survey here
Make Portugal your home! Contact our team of experienced and knowledgeable Property Advisors: info@PortugalProperty.com or call us on +351 308 800 878 or 0800 014 8201 free from the UK.
Download our magazine 'At Home' Berkshire Hathaway HomeServices Portugal Property www.PortugalProperty.com
Published in: Guide to Portugal / Miscellaneous / News and Updates / Portugal Property / Property / Property for sale in Portugal / Site News