Portugal lauded at the World Travel Awards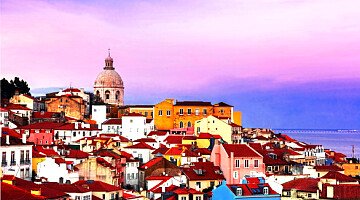 Lisbon
For the fourth year running, Portugal has secured the title of 'Europe's Leading Destination' at the 2020 World Travel Awards, which took place virtually for the first time due to COVID-19.

And according to judges Lisbon was distinguished as the Best City Break Destination in the world and the Algarve as the Best Beach Destination in the world.

World Travel Awards was established in 1993 to acknowledge, reward and celebrate excellence across all sectors of the tourism industry.

Today, the WTA brand is recognised globally as the ultimate hallmark of quality, with winners setting the benchmark to which all others aspire.

Considered the Oscars for tourism, the World Travel Awards votes are cast by travel industry professionals and the public, with the nominee gaining the most votes in a category named as the winner.

On hearing about the plethora of awards for Portugal, Rita Marques, the Secretary of State for Tourism said: "winning despite all the constraints shows that we have managed to preserve the reputation and fame of our destinations."

"We have shown to the world that we are a safe country, ready to welcome everyone as soon as it will be possible. A big thank-you to all the Portuguese who have contributed towards Portugal continuing to be up there with the best," she added.

In addition to these awards, Portugal also won:

World's Leading Luxury Leisure Resort 2020 – Conrad Algarve

World's Leading Tourism Development Project 2020 – Dark Sky Alqueva, Portugal and Spain

World's Leading Golf & Villa Resort 2020 – Dunas Douradas Beach Club, Portugal

World's Leading Wine Region Hotel 2020 – L'AND Vineyards, Portugal

World's Leading Adventure Tourist Attraction 2020 – Passadiços do Paiva (Arouca UNESCO Global Geopark), Portugal

World's Leading Classic Hotel 2020 – Olissippo Lapa Palace Hotel, Portugal

World's Leading Conservation Company 2020 – Parques de Sintra – Monte da Lua, Portugal

World's Leading Airline to Africa 2020 – TAP Air Portugal

World's Leading Airline to South America 2020 – TAP Air Portugal

World's Leading Inflight Magazine 2020 – Up Magazine (TAP Air Portugal)

World's Leading City Break Destination 2020 – Lisbon, Portugal

World's Leading Beach Destination 2020 – The Algarve, Portugal

World's Leading Fine Dining Hotel Restaurant 2020 – Vila Joya Hotel Restaurant @ Vila Joya, Portugal

World's Leading Island Destination 2020 – Madeira Islands

Invest in the best – find out how easy it can be!  Contact one of our knowledgeable and experienced team of Property Advisors: info@portugalproperty.com or call us on +351 308 800 878 or 0800 014 8201 free from the UK.
Published in: Site news / Property for Sale in Portugal / Portuguese Life / News and Updates / Guide to Portugal