Portugal flying the Blue Flag at 32 more beaches this year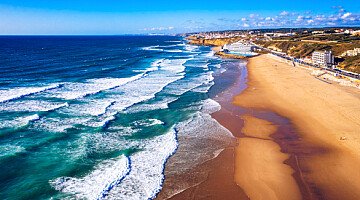 This year Portugal has 431 beaches, marinas and vessels awarded with the Blue Flag, 32 more than in 2021, with an increase in river beaches distinguished with the award, the Associação Bandeira Azul Europa (EBAE) announced recently.
The iconic Blue Flag is one of the world's most recognised voluntary awards for beaches, marinas and sustainable boating tourism operators. To qualify for the Blue Flag, a series of stringent environmental, educational, safety and accessibility criteria must be met and maintained.
Central to the ideals of the Blue Flag programme is the aim of connecting the public with their surroundings and encouraging them to learn more about their environment. As such, environmental education activities must be offered and promoted in addition to a permanent display of information relevant to the site in terms of biodiversity, ecosystems and environmental phenomena.
The figure is almost 15 times higher than the number 25 years ago, with Blue Flags for 2022 awarded to 393 beaches, 18 marinas and 20 ecotourism vessels, a total of 431 Blue Flags.
This season, 21 more beaches, 2 more marinas and 9 more ecotourism boats will fly the Blue Flag than last year.
The 393 beaches are spread over 102 municipalities, with emphasis on Vila Verde, Tábua and Alandroal, which applied for beaches for the first time and Cascais and Marinha Grande, which returned to the Blue Flag programme this year.
The biggest growth is that of the Blue Flag Award for Ecotourism Vessels, which has 9 more vessels, from 5 new operators and therefore, is now present in all regions, except the Azores.
The distinguished coastal and river beaches are distributed across the North (82), Centre (50), Tejo (77), Alentejo (40), Algarve (86), Azores (42) and Madeira (16).
Is it any wonder that demand for property in Portugal is higher than ever? Find out more from our knowledgeable team of Property Advisors – call us on +351 308 800 878 or 0800 014 8201 free from the UK, alternatively email us: info@portugalproperty.com
Published in: Guide to Portugal / Miscellaneous / News and Updates / Portugal Property / Portuguese Life / Property / Property for sale in Portugal / Site News / Travel