Porto – perfect for investors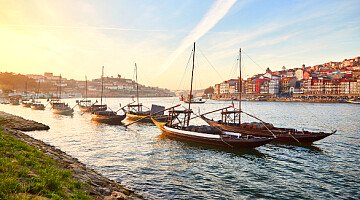 Developed by Berkshire Hathaway HomeServices, the Global Luxury Landscape 2021 report presents the latest trends in real estate and luxury markets around the world.
The report reveals the locations to take into account for 2022, identified by agents of the Berkshire Hathaway HomeServices network around the world.
In a list of 14 places not to be missed, we find Baixa do Porto, together with regions such as Colli Piacentini in Italy, Puerto Cancún in Mexico, Virginia Beach in the United States, among other unmissable regions in 2022.
The city of Porto, which was voted this year as the ninth-best city in the world by the Time Out Index and the second best city in Europe by the readers of Condé Nast magazine, is also featured in the choices of Berkshire Hathaway HomeServices. According to the Global Luxury Landscape of 2021, the Baixa do Porto and Cedofeita areas offer a selection of bars, restaurants and art galleries, as well as palaces that were built by the nobility in the 19th century. All of these features have helped to attract foreign investment, namely from markets such as the United States and Israel.
These large, formerly derelict buildings are now being renovated and converted into boutique houses and apartments. Baixa and Cedofeita this year saw a price increase of 10 per cent compared to 2014, the year in which Porto began to observe increasing levels of tourism. Porto is a growing city, which appeals to those looking for a relaxed and unpretentious place to live and where there is still a lot of development opportunities. As a UNESCO World Heritage Site, the city uniquely combines modernity and tradition. It oozes charm and is renowned for the majestic Douro Valley with well-tended vines tumbling down verdant hillsides to the Douro River and for the stunning Atlantic beaches which are just a 15-minute drive away. Capable of satisfying the needs of the most demanding national and international investors, the smart money is on Porto.
Come and experience the authenticity and hospitality of Porto for yourself – contact our team of friendly and knowledgeable property experts: info@portugalproperty.com or call us on +351 308 800 878 or 0800 014 8201 free from the UK.
Published in: Travel / Site news / Property for Sale in Portugal / Property / Press Releases / Portugal Property / News and Updates / Guide to Portugal