Palatial living - literally!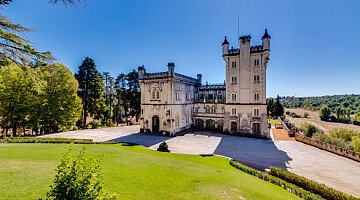 Imagine calling a palace near Lisbon your home in Portugal…

Quinta da Torre de Santo António, or how it's better known today, Quinta do Marquês, is a grand palace located in the municipality of Torres Novas, Santarém district of Lisbon. It oozes opulence throughout and resembles a gothic, fairy-tale castle. With construction dating back to the 1800s, there's plenty of room for family and friends to stay in the regal 17 bedrooms and 10 bathrooms – surrounded by acres of lush, mature gardens with topiary, woods and the obligatory pool.

With a build size of 2,000 m2, it is a testimony to the various renovations that have been carried out over the years with objects of art and decoration festooning every room. Each architectural aspect and each piece tells a part of the history of this home and each of its occupants. 

For example, the staircase leading to the upper floors features baroque tile panels from the first half of the 18th century. On the upper floor, on the south side, the Manueline mullion windows stand out in two of the rooms; Rococo style tiled floors in one of the corridors and a tiled bathroom in Art Nouveau, Sarreguemines manufacture. 

Outside there is a chapel which is a fine example of religious architecture of the period. Located near the palace, it has all the original elements gathered by the first Marquis of Foz. 

The palace sits on a plateau in the countryside and is surrounded by gardens and woods, stretching to 600,000 m2 - these have been lovingly cared for by its successive owners. The vegetation is made up of several native tree species – such as the Portuguese oak and there are still two imposing cedars planted at the beginning of the path leading to the chapel and a giant cedar that is thought to be one of the oldest cedars in Portugal.

See the palace, available for offers over €6m here and then contact our team of experienced Property Advisors for more information. Telephone +351 308 800 878 or 0800 014 8201 (free from the UK) or email info@portugalproperty.com.
Published in: Site news / Property for Sale in Portugal / Portuguese Life / Portugal Property / News and Updates / Guide to Portugal