One of the last GV350 opportunities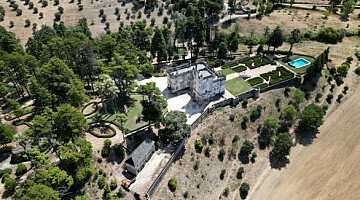 Published on
Imagine being a part of a unique neo-Manueline Palace, located just an hour away from Lisbon.
This property was ordered to be transformed at the end of the 19th century by the Marquis of Foz and was designed by the illustrious architect Luigi Pietro Manini. Among his few unique works, are properties like Buçaco Palace and Regaleira Palace. The origin of the property goes as far back as medieval times and even has part of an important Roman road known as "Via XVI" that used to connect Lisbon to Braga.
Inside the Palace are splendid rooms with uniquely detailed fireplaces, painted ceilings, and 19th-century tile panels. The two Manueline windows were the central elements of inspiration for the Palace, where its romantic tower stands out. The geometrically designed gardens precede a magnificent swimming pool, plus the estate boasts a chapel, stables, a wine cellar, lakes, streams, and a vast agricultural area.
The development of a "countryside resort" will transform the existing Palace into a luxury boutique hotel with 10 unique suites, flanked by a new 5* hotel with 150 suites offering high-end amenities, contact with nature, relaxation and comfort.
This is probably the last GV350 opportunity - and you can be a part of this unique project in a unique place.
The benefits are as follows:
- Call out for 60 investors.
- Rentability of 4.5% x 5 years, paid upfront.
- Rentability on 6th and 7th year, 10,500€/year.
- Buyback (mandatory) on year 7.
- Conclusion Q1 2026.
- All taxes (IMT and IMI) are covered by the developer.
PP174182 - €350,000
If you're interested in finding out the latest details of the Golden Visa programme and want to take advantage before it ends, call us to arrange your free Golden Visa Consultation. Please email us at hello@PortugalProperty.com or call us at +351 308 800 878 or 0800 014 8201 free from the UK.
Published in: Guide to Portugal / Miscellaneous / News and Updates / Portugal Property / Property / Property for sale in Portugal