Ombria Resort, a premium sustainable village in the heart of the authentic Algarve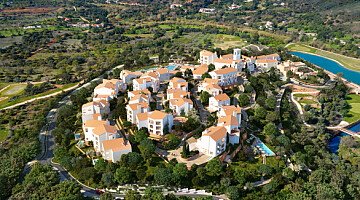 Ombria Resort
Ombria Resort, opening in early 2022, is being designed according to the highest international standards, displaying different residential units including 12 turnkey luxury villas, townhouses, semi-detached villas and 63 one and two-bedroom apartments.

Located on what is set to be a world-leading golf resort amidst 150 acres of serene countryside in a secluded and natural landscape of rolling green hills, rivers, lush cork and oak forests, this is a low-density resort development where sustainability, the environment and support of nature and local heritage lie at the heart of the resort. The overall concept for Ombria Resort is a destination that is in touch with the authentic Algarve.

Ombria Resort will offer a landmark golf experience with an 18-hole, par 71 signature golf course where nature has been fully integrated into the play experience to provide a diverse challenge and setting. Set to be one of the finest resorts in Portugal where players will enjoy the outstanding facilities of a premium branded hotel, an endless choice of sporting activities and the perfect all-year-round climate of an inland Algarve golf course.

Property owners will benefit from access to the resort facilities such as the sports facility, kid's club, 24h security service and golf discounts at the clubhouse restaurant and golf pro shop.

Freehold touristic apartments from €368,050 are fully managed by Viceroy Hotel & Resorts and offer a guaranteed minimum rental return of 5% per year for the first 5 years (pre-tax and net of expenses). The owners can use their apartment for up to 70 days per year.

The three-bedroom to seven-bedroom detached turnkey villas start from €2,550,000 and are designed by one of Portugal's most renowned architects, with the possibility to choose your specification and finishing. With a build size of 481 to 746 m2, they are set in individual plots of between 1,735 - 3,324 m2.

Nestled in the heart of the Algarve, enclosed by nature reserves and picturesque, white-walled villages, easy access - just a short drive to some of the Algarve's most exceptional golden sandy beaches and 20 minutes' drive from Faro airport.

Find out more about this 5* resort and the opportunity to acquire a unique property in a tranquil location in tune with the picturesque mountains. Contact us today - info@portugalproperty.com or call us (+351) 308 800 878 or 0800 014 8201 free from the UK.
Published in: Site news / Property for Sale in Portugal / Portuguese Life / Portugal Property / News and Updates / Guide to Portugal