New Equestrian and Farming Properties section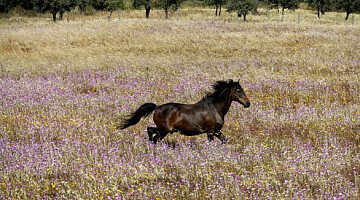 Portugal is perhaps best known for its 300+ days of sunshine a year, its golden sandy beaches, delicious wine and seafood, stunning countryside, rich heritage and warm, friendly people.
  
But it is also a country with strong and established equestrian traditions; Portugal is the home of the fabulous, world-famous Lusitanos horses. It is the perfect place for stunning trail rides through beautiful picturesque villages, for cantering through forests, trotting along ancient trails as well as exhilarating fast-paced beach rides along the breath-taking coast.

With great weather all year round, you can ride at any time of the year, even in the winter when the sun still shines. As nights are quite warm, you can enjoy watching the sunset on horseback and ride under the full moon.

It is these idyllic conditions that see more and more people living the good life and enjoying equestrian holidays. Due to the increasing demand for quality properties with equestrian and farming facilities, we have launched our bespoke section - Equestrian and Farming Properties.

The Equestrian and Farming team have decades of experience in the field and have the expert knowledge that accompanies this.

Our equestrian Property Consultants are passionate about riding and understand all disciplines from dressage to show jumping. So whether you are looking for a small paddock for personal use or a full equestrian centre, we can offer a specialist service to help you find the perfect equestrian or farming property. Set up an alert to be the first to hear about new properties to the market with My Portugal Property.

To find out more about properties throughout Portugal, contact our knowledgeable and professional team of Property Advisors to discuss your requirements. Telephone 0800 014 8201 free from the UK or +351 308 800 878. Alternatively, email us on info@portugalproperty.com.
Published in: Site news / Property for Sale in Portugal / Portuguese Life / Portugal Property / News and Updates / Guide to Portugal