Luxury hotel apartments – qualifying for the €350k Golden Visa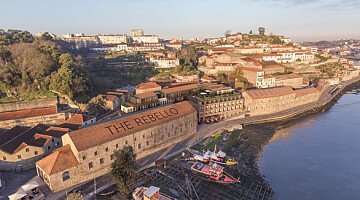 Rarely does an opportunity like this come up - we now welcome investors from around the world to invest in units of Euros 350K in this Private Equity Fund (PEF) that qualifies for the highly sought after €350K Golden Visa in Portugal.

Time is limited, as the €350k visa is only available until the end of 2021. Thereafter, the investment amount required will be €500k.

The Rebello Luxury Hotel Apartments, named after the port-ferrying wooden boats made nearby, were originally six historic port warehouses that are being sympathetically converted with completion of the works due in mid-2022.  The entire space has been designed to respect and underline its distinctive heritage; which means rooms with high ceilings, huge industrial-style windows, loft-style apartments flooded with natural light and extraordinary river views.

The apartments are situated in one of the best locations on the banks of the River Douro in Gaia, overlooking Porto, long famed as the 'Capital of the North'. A magnificent building that will encompass 106 apartments within a 5* apartment hotel, there will be two restaurants, a gym, a destination spa with an indoor and an outdoor pool and a fashionable rooftop bar offering spectacular views across the river to Porto itself.

As in their other hotels, the restaurants will be run by Bomporto Hotels, offering excellent, contemporary Portuguese food in a relaxed setting.

Five minutes' walk from the hotel will take you to the vintage port houses and the cluster of restaurants and bars of Gaia. Another five minutes takes you by foot across the iconic metal bridge of Ponte Luis I into Porto city centre and the Unesco Heritage district of Ribeira. Alternatively, you could take The Rebello river taxi into town.

All of the 5* apartments will have a targeted return structure beginning mid-2022 when works are complete, and The Rebello PEF is designed to fulfil all qualification criteria for a Golden Visa as set out by the Portuguese Government.

The Golden Visa Programme was introduced by the Portuguese Government in 2012. The regulations are aimed at attracting foreign investment to the country by creating a straightforward and quick method of obtaining residency visas which are relatively simple to convert to a full Portuguese passport after 5 years.

Our expertise in this market allows us to provide a complete service for any client looking to invest in the Golden Visa Programme; we are a company you can trust. Find out more by contacting our team of knowledgeable and professional Property Advisors: info@portugalproperty.com or call us on +351 308 800 878 or 0800 014 8201 free from the UK.
Published in: Site news / Property for Sale in Portugal / Portuguese Life / Portugal Property / News and Updates / Guide to Portugal