Luxury front-line apartments in Funchal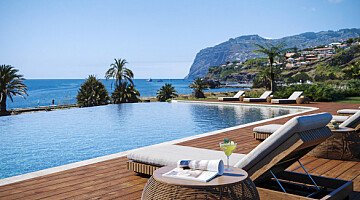 Imagine waking up, walking just a few steps and diving into the Atlantic Ocean in Madeira!! With this development, the dream is a reality.
Located on Praia Formosa, one of Funchal's biggest beaches the apartments are completely front line with breathtaking sea views. Walking distance from services, supermarkets, restaurants, a shopping centre, hotels, and everything you need – plus only 10 minutes by car from Funchal.
This is the last piece of land in front of the water where a development like this can be built, so it is an unmissable opportunity.
The apartments consist of two or three spacious bedrooms, providing ample room for residents or guests. Additionally, there is a dedicated storage area, allowing you to keep your belongings organised and easily accessible.
One of the standout features is the large terraces, which offer panoramic views of the sea. Some apartments even have their own private plunge pool, allowing you to relax and cool off while enjoying the stunning surroundings.
To ensure your comfort, the apartments are equipped with multi-split air conditioning and a heat pump system, providing efficient climate control throughout the space. Built-in ceiling lighting and LED strip lights enhance the ambience and add a touch of elegance to the apartment's interior.
For convenience and security, the apartment has two underground parking spaces, allowing you to easily park your vehicles.
The complex features expansive and well-maintained gardens, providing residents with a serene and tranquil environment. In addition, a fully equipped gym is available within the complex, allowing you to stay active and maintain a healthy lifestyle without leaving the premises.
Lastly, the complex includes a large swimming pool, providing a refreshing retreat for residents to enjoy and relax.
Operated by the Pestana group, with more than 100 hotels across the world, they launched into the apartment business 3 years ago, selling 189 units in a year. They joined Cristiano Ronaldo for this project and created Formosa Bay by Pestana and CR7. Imagine waking up in the same building as Cristiano Ronaldo!
Overall, this luxury apartment offers a prime location with stunning sea views, high-quality construction, a range of desirable amenities, and ample parking and outdoor spaces, ensuring a luxurious and comfortable living experience.
If you're interested in finding out about the Golden Visa programme and want to take advantage before it ends, call us to arrange your free Golden Visa Consultation. Please email us hello@PortugalProprty.com or call us +351 308 800 878 or 0800 014 8201 free from the UK.
Published in: Guide to Portugal / Miscellaneous / News and Updates / Portugal Property / Property / Property for sale in Portugal