Live in Lisbon!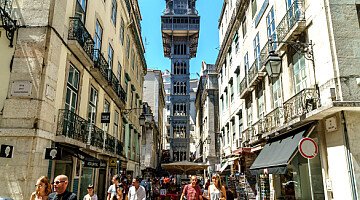 Lisbon is full of charm, character and tradition here are five facts about our beloved capital:
1. Lisbon was almost destroyed by an earthquake
On November 1st 1755, All Saints' Day, Lisbon was struck by a monumental earthquake that nearly destroyed the city. 40 minutes after the earthquake, a tsunami engulfed the harbour and downtown area, rushing up the Tagus River. Around 85% of Lisbon's buildings were destroyed, including famous palaces as well as most of Portugal's distinctive 16th-century Manueline architecture.
2. The oldest bookstore in the world
There is an abundance of independent bookstores crammed into the streets of Lisbon including the oldest bookstore in the world dating back to 1732, Bertrand Chiado on Rua Garrett.
3. Pasteis de nata originate from Lisbon
The pastel de nata was first made by monks from the Jeronimos Monastery in Lisbon. They used egg whites to starch clothing and needing a way to use up the yolks, they decided to make small sweet tarts. When the monastery closed, the recipe was sold to a sugar refinery. Three years later the refinery owners opened Pastéis de Belém, which is still open today and run by descendants of the original owners.
4. Famous trams
The well-known yellow trams are modelled on what was used in the mid-19th century in California. In 1873 the first tramway started in Lisbon and the trams were, appropriately, called Americanos.
5. The oldest city in Western Europe
Lisbon is the oldest city in Western Europe. Only Athens is estimated to be older. Lisbon was founded by the Phoenicians in 1200 BC. They were merchants and seafarers and the location on the Tagus River on the Atlantic coast was too good to miss. One of the theories about the emergence of the name Lisbon is that it comes from the Phoenician pronunciation "Allis Ubbo", which means "safe haven".
Invest in your safe haven in Lisbon; contact our experienced Property Advisors +351 308 800 878 or 0800 014 8201 (free from the UK) or email the team at info@portugalproperty.com.
Published in: Guide to Portugal / News and Updates / Portugal Property / Portuguese Life / Property for sale in Portugal / Site News / Travel