It's sunny here!
Published on 26th October, 2018 by Natalia Martins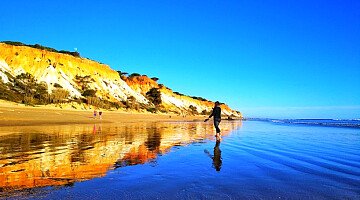 Algarve
Are you fed up with the winter weather already? The temperature here in the Algarve is currently a balmy 23'C and the skies are an Azul blue - so why not escape the grey and come on over to the sunshine - make that investment in your holiday home in the Algarve now and cold winters can become a thing of the past!

Thanks to its temperate Mediterranean-like climate, the Algarve enjoys a moderate autumn. Boasting over 300 days of sunshine a year, the "out of season" months are a great option for a winter sun holiday or short break as more and more people are finding out!

For example, November enjoys an average 5 hours of daily sunshine and the Atlantic's water is 17'C – so still great for water sports and long walks along the deserted Blue Flag (for excellence in safety and water quality) sandy beaches. The days still tend to be between 17-20'C in the shade but of course, feeling much warmer in the sun – perfect for exploring.

Winter was traditionally a low tourist season, but the Algarve has experienced an unprecedented increase in visitor numbers. This increase in tourism has greatly benefitted the area with many hotels and restaurants permanently open and a lively atmosphere in the larger resort towns, especially around Christmas. This means that if you plan on renting out your holiday home then the rental season is greatly extended from just the traditional summer months.

The mild winter Algarve climate is perfect for those that love the outdoors lifestyle, all year round – not forgetting playing on one of 30+ world-class golf courses.

There are also plenty of cheap flights to Faro at this time of year and it's less than 3 hours from most major European cities. So with fewer guests making property access easy, what better time to look for that holiday home and soak up the warm, cosmopolitan Portuguese lifestyle!
Published in: Travel / Site news / Portuguese Life / Portugal Property / News and Updates / Guide to Portugal