It's official – Portugal is "Europe's Leading Destination"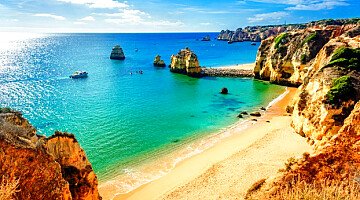 Algarve
Europe's finest travel brands have been unveiled at the World Travel Awards Europe Gala Ceremony 2019 held in Madeira last weekend.

Portugal was chosen – for the third consecutive year – as Europe's Leading Destination and reinforced its credentials as the country for everyone by receiving 39 awards at the annual ceremony, three more than last year. The organisation designed to promote Portugal, Tourism of Portugal, received the award for Europe's Leading Tourist Board.

The World Travel Awards was established in 1993 to acknowledge, reward and celebrate excellence across all sectors of the tourism industry.

Today, the WTA brand is recognised globally as the ultimate hallmark of quality, with winners setting the benchmark to which all others aspire.

The voting process is online and a year-long communications campaign encourages global participation from qualified executives working within travel and tourism and the consumer travel buyer.

In addition to Europe's Leading Destination prize, Lisbon was awarded Europe's Leading City Break with the Algarve regaining the trophy of Europe's Leading Beach Destination - a distinction which it had received seven times before, but had lost last year to the Peloponnese in Greece.

Known as the "Oscars of Tourism", these awards are often seen as a tool to predict future increases in tourist numbers, with these latest awards once again highlighting Portugal as one of the best travel destinations in the world and officially the best in Europe!
Published in: Travel / Site news / Property for Sale in Portugal / Portuguese Life / Portugal Property / News and Updates / Guide to Portugal