'Hottest' destination of 2018? Portugal!
Published on 14th September, 2018 by Natalia Martins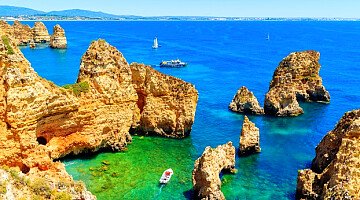 Algarve
At the Virtuoso Awards which took place in Las Vegas last week, Portugal was named as the 'hottest destination of 2018'!

Virtuoso is a network of the best luxury travel agencies, with more than 17,500 advisors worldwide, 9,000 of which are from the USA.

The awards are handed out every year to recognise "excellence in communications and the best in creative strategy and design".

The accolade has been celebrated by the Secretary of State for Tourism, Ana Mendes Godinho who said it was "great news" and proved that "Portugal is establishing itself more and more as a quality destination for tourists who spend more money". She also stressed that the award comes at an "especially important time" as the USA has become the fifth biggest market for Portugal in terms of tourism revenue.

Luís Araújo, president of national tourism authority, Turismo de Portugal, wants the country to keep promoting itself in the USA so that Americans continue to not only visit the country but to consider it as a place to invest and to live.

In the first quarter of this year, Portugal welcomed 354,000 American guests, a 21.3% increase over the same period last year.

This has fuelled increased air links between both countries by operators TAP, SATA, United Airlines, American Airlines and Delta Airlines.

And figures just released from the World Tourism Organisation show that Portugal has now overtaken Greece and is 4th among southern European nations in terms of money generated from tourism at 17 billion dollars. Spain leads the way followed by Italy and Turkey.
Published in: Travel / Property for Sale in Portugal / Property / Portuguese Life / Portugal Property / News and Updates / Guide to Portugal