Golfing Delights Of The Algarve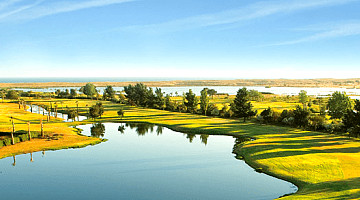 Amazing Scenery - Amazing Golf
There's nothing quite like spending a day out in the warm Portugal sun. Come to Portugal & the Algarve and you're surrounded by fresh air, and breathtaking scenery. Best of all, if you visit from the months of September til March, you won't be plagued by the rainy season.
Golfing in the Sun is one of the best life choices for you. The Algarve offers some of the best golf courses in Portugal. In fact it is the premiere destination for golfers from all over Europe. You'll find championship level golf courses that run along the coastline and the country. Some that are lined with majestic pine forests, cliff tops, and amazing sea views make this a Golf destination that you'll never forget.
When you're in the Algarve, the first you'll notice is there certainly is no shortage of golf courses here. Vilamoura golf courses are considered to be amongst the best of the crop. Standout courses in Vilamoura that deserve some consideration include Victoria, Millennium, Old Course, Laguna, Vila Sol and Pinhal. In fact, when you are out in Vliamoura, you'll find that the local hotels will provide you with a shuttle service that can take you to and from the course of your choice.
These most famous courses in the Algarve can be found in Quinta Do Lago, Vale Do Lobo, and San Lorenzo. Many people who travel to the area for golf, will state that these are among their preferred destinations. The reason is that these courses are on a championship level, and they are partnered with surrounding night life that makes this perfect for enjoying the night, after a day of golf. This isn't something you can find just anywhere in the world, and that has helped the area to see a significant spike in popularity.
For those who are seeking out an alternative to the options that are found in central Algarve, they might want to consider the peaceful Eastern location & the Monte Rei golf course - what an amazing course it is too. Arguably the finest in the Algarve. Two more in the area, are the Quinta da Ria and the Quinta da Cima courses. Both have their own unique sense of beauty.
While here, golfers will have access to the rugged terrain that will provide a great deal of scenery to golfers. At the same time, there is access to the inland golf courses, like the Penina Golf Course and Resort. You'll also see the Pestana Golf Resort located in Carvoeiro that has two of its own golf courses that are available for visitors. Those who are interested in a one of kind view of the Monchique mountains will want to consider the Pinta and Gramacho golf courses. While other exceptional choices for golf in the area include Parque de Floresta, which is located near Sarges, and the Morgado Golf Club is yet another great option for you to consider.
As you review the different golf courses in the area, you'll note that most of them do feature 18 holes. You'll need to make sure that you have a handicap certificate if applicable, along with following all club rules and dress codes if you plan on playing on their courses. If you prefer a short game and want to simply practice, there are some nine hole courses that are available. These courses are located in Pine Cliffs, Balania Village, Vale de Miho and Vilamoura.
One other option you'll have in the area are the golf academies that are available. These are located in places like Barringtons Health Club & Spa, and the range at Balaia Golf Village. Both locations will give you the chance to further improve on your skills and achieve incredible results.
Just note that the time you spend in the Algarve will be one you'll never forget. After all, the climate and culinary delights of Algarve are known and respected all around the globe. When you mix that with the best selection of golfing holidays and scenery you won't find anywhere else in the world quite like it. It is most certainly one of the best destinations for you to travel to for a relaxing holiday - Golf holiday.
Property in the Algarve is highly sort after, here at PortugalProperty.com we have the finest selection of Golf properties. Contact us now for further information.
Published in: Guide to Portugal / Miscellaneous / Portuguese Life