Golf Properties in Vilamoura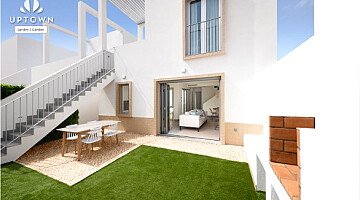 Berkshire Hathaway HomeServices Portugal Property is delighted to present a new development of 2 and 3 bedroom apartments and villas with Algarvian architecture in the heart of the popular resort of Vilamoura. 

'Uptown' is a new concept of homes with a mix of residential, tourist and retail/commercial areas nestled between the Vilamoura International School, the Equestrian Centre and the Dom Pedro Victoria Golf Course, host to the Portugal Masters. Easy access to the world-class 825 berth Vilamoura marina with its glamorous shops and restaurants and to the golden sandy Falesia beach.

A sophisticated development of just 31 properties, of which 55% have already been sold, it has been created to offer maximum privacy and comfort, with modern lines and recessed balconies designed to protect the privacy of its residents.

The chic interiors offer a sense of freedom and well-being that the home of your dreams deserves. The lush, landscaped grounds allow plenty of private space to enjoy the clubhouse and the pool during the 300 days of Algarvian sunshine – with high walls ensuring all of this is unseen from outside. 

The elegant layouts create ample space, offering rooms with both windows and balconies with direct views of the inner garden. This gives their owners a feeling of extraordinary privacy. Bathed in immense natural light, each residence reflects a sophisticated interior architecture with extraordinary attention to detail in finishes and materials. 

The privacy concept is based on a language of light and simplicity and the use of quality materials with durable features such as aluminium and glass. Each home is positioned to enjoy optimum sun exposure – designed to allow living rooms and bedrooms south-facing orientation with the bedrooms facing the common leisure space.

This development is a wonderful investment opportunity with 2 bedroom properties starting at just €294,000 ranging to €502,000 for the deluxe 3 bedroom villas. Ready in December 2020, a real show home can be viewed.

To arrange a virtual tour, contact us now - info@portugalproperty.com or call us on +351 308 800 878 or 0800 014 8201 free from the UK.
Published in: Guide to Portugal / News and Updates / Portugal Property / Portuguese Life / Property / Property for sale in Portugal / Site News