Golf, Golf and more Golf!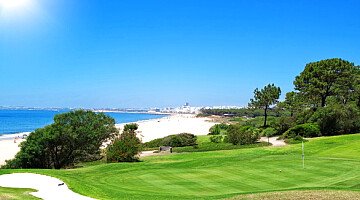 Portugal is internationally renowned as a golf destination and its courses offer a great challenge for golfers.

Designed to blend harmoniously into the landscape, the layout of most courses is suitable for various levels of experience. Certain greens are notable for their difficulty or their surroundings and are a true test of skill and technique.

Playing golf in Portugal stays in the memories of all those who try it, due to excellent courses in stunning settings, a mild climate all year round and the friendly welcome given to golfers.

It's hard to find a better destination for a golfing holiday. Chosen by the World Golf Awards as the Best Golf Destination in Europe for six years in a row, between 2014 and 2019 and as the Best Golf Destination in the World between 2014 and 2018, Portugal has a wide variety of courses, with features suitable for different levels of difficulty and budget.

There are more than ninety courses around the country, with many designed by famous architects such as Robert Trent Jones Jr., Jack Nicklaus, Arthur Hills, Nick Faldo, Severiano Ballesteros, Henry Cotton, Rocky Roquemore and Arnold Palmer. Palmer was the creator of the award-winning Victoria Golf Course in the Algarve, one of golfs flagship courses, where the Portugal Masters has been held since it was first staged in 2007. One thing they all share is their environmental quality and the harmonious way in which they blend into the natural surroundings.

The biggest challenge is perhaps not the courses, but having your concentration broken by the beauty and light of the surrounding countryside. Some courses overlook the sea flanked by cliffs and dunes with white sand and others are surrounded by lakes and mountains.

Fancy playing golf every day? Invest in a home in Portugal! Contact our knowledgeable and professional team of Property Advisors: info@portugalproperty.com or call us: +351 308 800 878 or 0800 014 8201 free from the UK.
Published in: Guide to Portugal / News and Updates / Portuguese Life / Property for sale in Portugal / Site News