Golden Visa versus the D7 Visa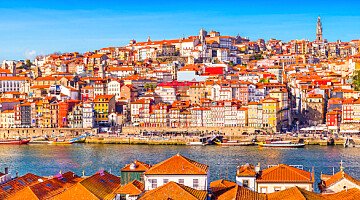 Portugal is a safe, secure, affordable country with a high quality of life, solid infrastructure, superb climate and good health and education systems.
Is it any wonder that visa schemes are so popular? But which one is right for you?
Both the Golden Visa and the D7 Visa allow you to live in Portugal, travel within the Schengen area and apply for the Non-Habitual Residency (NHR) tax regime. They also both allow you to qualify for permanent residency and Portuguese citizenship after 5 years.
The Golden Visa is a highly sought after visa and residency permit given to those that invest in Portugal. The most popular route to obtain this visa is to buy a property here. An eligible property needs to cost between €350,000 and €500,000.
Essentially, the Golden Visa is aimed at those that want a pathway to permanent residency and Portuguese citizenship but don't want to spend the majority of their time in Portugal. If you're still working in another country, or plan to travel a lot, but want an "EU passport," this could be the right visa for you.
The D7 Visa is aimed at those that are self-sufficient and have their own income, particularly passive. It's often called the passive income visa but has also been referred to as the retirement visa. For a person to be eligible, your income needs to be equal to or greater than the Portuguese monthly minimum wage, which is around €800 per month.
Sources of income that are accepted include income from rental properties, dividends, or a salary from a remote online job. A retiree's pension would qualify for this as it is seen as a stable, regular source of income. The D7 requires you to live in Portugal for the majority of the year and be a tax resident here. It doesn't have the same flexibility as the Golden Visa, but the fees are significantly cheaper.
The biggest difference between the Golden Visa and the D7 is that the Golden Visa only requires you to spend 14 days in Portugal every two years whereas the D7 requires you to permanently relocate to Portugal. Regulations on real estate acquisition to obtain a residency or citizenship through the Portuguese Golden Visa scheme are set to change.
If you are choosing the Golden Visa, you need to act now, as time is running out. After January 2022, residential property in Lisbon, Porto, and along the coast including the Algarve, won't qualify for the Golden Visa, plus the minimum investment level for fund subscription will be raised from €350,000 to €500,000. For high net worth individuals, a Golden Visa is a gateway to freedom. It's not about relocating – but about creating future opportunities for family, either for an improved quality of life, access to better education, or a safe haven from political instability.
Our expertise in the marketplace allows us to provide a complete service – with a reliable and reputable network of lawyers, banks, rental companies and tax advisors – we can assist with the application professionally from start to finish and organise a speedy transaction.
To find out more, contact us: Telephone +351 308 800 878 or 0800 014 8201 free from the UK or Email info@portugalproperty.com.
Published in: Money / News and Updates / Portugal Property / Property / Property for sale in Portugal / Site News