Funchal - the Centre of Festivities!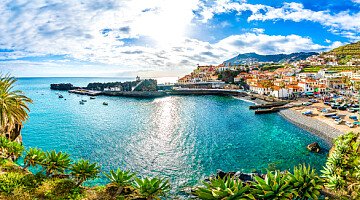 "In the bleak midwinter, frosty wind made moan…" but not in Funchal on the tropical island of Madeira.
It's winter, but Funchal is currently enjoying daytime temperatures of 24'C with 'lows' of 19'C at night!
Situated in a bay bathed by the Atlantic Ocean, on the south coast of the island, Funchal is the capital of Madeira.
The town dates back some 600 years and gets its name from the sweet-smelling wild herb growing everywhere then, fennel or 'funcho' in Portuguese.
At this time of year, the Christmas spirit invades the city, starting with the launch of the Christmas lights and decorations that embellish just about every street from the first week of December. These were done in record time this year taking just 2 months to complete!
One of the best-known events is the Noite do Mercado (Market Night), which takes place on the 23rd of December. Residents come to the marketplace, the Mercado dos Lavradores, (Farmers' Market) to do their last Christmas shopping and throughout the night, there are stalls in the streets surrounding the market with a variety of local products, from fruit to the typical wine and garlic meat sandwiches and not forgetting the traditional regional alcoholic beverage 'Poncha'.  In Fish Square, there are Christmas carols, bringing a unique and genuine Christmas atmosphere.
The festivities culminate at the end of the year with a magnificent fireworks show, officially recognised in 2006 by the Guinness Book of Records as the largest fireworks show in the world. The pyrotechnics dazzle residents and visitors alike, with their vivid colours that light up the bay's amphitheatre and make for unforgettable memories.
And when Madeirans celebrate, they celebrate with gusto! The revelry leading up to New Year's begins early in December, then builds all the way through until Twelfth Night.
Since January of this year, Madeira qualifies as a Golden Visa programme region, so find out more about investing in magical Madeira, our experienced, multi-lingual team will happily guide you. Email: hello@PortugalProperty.com or call us: +351 308 800 878 or 0800 014 8201 free from the UK.

Download our magazine 'At Home' Berkshire Hathaway HomeServices Portugal Property.
Published in: At Home Magazine / Guide to Portugal / Miscellaneous / News and Updates / Portuguese Life / Travel