Elegant East Algarve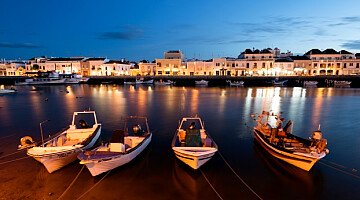 Eastern Algavre
Has time stood still in Eastern Algarve? If you are looking for a more underdeveloped area to invest in a holiday home or even to relocate, this coastline – stretching from Faro to the Spanish border – has many resorts and port towns that have retained much of their original character.

Surrounded by 'ilhas' – sand flats – that protect the characteristic tidal marshlands of the Ria Formosa Nature Reserve, this is an area of outstanding natural beauty. The wetlands of the reserve make the coastline wild and interesting and it is an important breeding ground for storks, cranes, ibis, egrets, flamingos and oystercatchers – heavenly for bird watchers! Here you can find traditions that have been carried out for centuries - oyster and salt farming, fishing and shellfish harvesting.

Lovers of the sun and sea can easily visit the tropical paradise islands located in the Ria Formosa estuary such as Faro, Barreta, Culatra, Tavira and Armona – the small island without cars, easily accessible by ferry or water taxi and famous for its beautiful fine white sandy beach.

Tavira, with the Gilao River meandering through its centre is one of the Eastern Algarve's most charming towns. It's a delightful mix of traditional Portuguese heritage with deep-rooted Moorish influences. Concealed within the labyrinth of white cobbled streets worn smooth by centuries of feet are traditionally tiled houses, family-run restaurants and a myriad of picturesque churches.

Surrounding Tavira are the fascinating towns of Olhão, Vila Real de Santo António and Cabanas, along with several world-class golf courses and unspoilt countryside. And don't forget Santa Luzia, just outside of the town, known as the region's octopus capital.
Published in: Travel / Site news / Property for Sale in Portugal / Portuguese Life / Portugal Property / News and Updates / Guide to Portugal