Discover luxurious apartments in the heart of Faro City!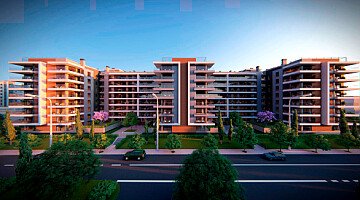 These residences showcase contemporary design and cutting-edge technology, providing an exquisite urban living experience. Every detail exudes modern sophistication, with elegant finishes and a seamless flow throughout. Embrace sustainable living with solar water heating and adjustable air conditioning for year-round comfort. Enjoy the benefits of double-glazed windows and energy-efficient appliances.
The open kitchen and living area promote a sociable lifestyle, while electric shutters and glass railings add convenience and elegance. Experience tranquillity in this private condominium with landscaped gardens and a children's playground. This development is located conveniently near amenities and cultural attractions and offers a privileged lifestyle.
The standout features include a fantastic rooftop pool, panoramic views of Faro and the coast, and a state-of-the-art gym. These automated apartments integrate technology with contemporary design, ensuring a luxurious and private living space.
Conveniently located, this development offers easy access to Faro's many attractions and amenities. Just a short 10-minute drive away is Faro Airport, connecting the city to major domestic and international destinations, making travel a breeze.
For shopping enthusiasts, the popular Forum Algarve is within a convenient 10-minute walk from the city centre. This modern shopping centre features a wide range of stores, boutiques, restaurants, and entertainment options, providing a vibrant hub for retail therapy and leisure activities.
Faro is steeped in history and offers a vibrant and cosmopolitan atmosphere. The city boasts a bustling marina, where you can enjoy leisurely walks and indulge in fresh seafood at waterfront restaurants. The vibrant Rua de Santo António, with its shops, cafés, and lively atmosphere, is a favourite spot for locals and visitors alike, and all of this is just a 10-minute walk away!
For nature enthusiasts, the Ria Formosa Natural Park is a must-visit. This protected coastal wetland is a haven for birdwatching, nature trails, and breathtaking boat tours. Explore the pristine beaches, lagoons, and sand dunes that make up this ecological paradise.
Faro also serves as a gateway to the stunning islands of the Ria Formosa. Hop on a boat and venture to the islands of Culatra, Deserta, Farol, and Faro Island, where you can unwind on pristine beaches, savour fresh seafood, and soak up the sun in a tranquil setting.
Contact us today to learn more or schedule a viewing, units available include T1 - T4 + Duplex.
Find out more by contacting our team of Property Advisors: hello@PortugalProperty.com or call us: +351 308 800 878 or 0800 014 8201 free from the UK.
Published in: Guide to Portugal / Miscellaneous / Portugal Property / Portuguese Life / Property / Property for sale in Portugal