Costa da Prata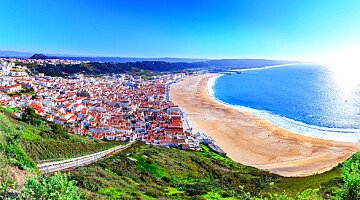 The shimmering waters of the Atlantic Ocean give the Silver Coast (or Costa da Prata) its name. The region, on the western shoreline of Portugal, is perfectly located between the two main cities of Porto and the capital Lisbon. Easy access to airports ensures excellent travel options across Europe and beyond.

Often compared to the Algarve of 30 years ago, it is a lesser-known area of Portugal oozing with Portuguese heritage. It is home to over 150 km of breathtaking beaches, mountainous regions such as the Serra da Estrela and charming cities. Along with coastal towns such as Nazaré, Peniche and Ericeira, it also boasts inland locations such as the wine region of Torres Vedras, the medieval town of Óbidos with its castle and the university town of Coimbra.

The small fishing town of Nazaré with its mild climate and natural beauty is perhaps the most famous town on the Silver Coast, given its worldwide popularity with big-wave surfers. Here there is a giant wave spot that was created by a 16,000-foot deep underwater canyon – its colossal waves are just perfect for extreme surfers as the waves swell to the size of large buildings!

The fearsome waters were originally considered too dangerous for local surfers until an American named Garrett McNamara couldn't resist the pull of the monster waves. In 2011, he set a world record by riding a wave that measured 78 feet. The record stood for seven years until, in November 2017, Brazilian Rodrigo Koxa surfed a wave that was officially measured at 80 feet. However, German Sebastian Steudtner, who suffers from vertigo, broke the record again in October 2020 on a wave measuring a colossal 86 feet! Sebastian now holds the Guinness World Record for the biggest wave ever surfed.

Find out more about the Silver Coast - contact us to discuss your property needs - hello@PortugalProperty.com or call us: +351 308 800 878 or 0800 014 8201 free from the UK.
Download our magazine 'At Home' Berkshire Hathaway HomeServices Portugal Property.
Published in: At Home Magazine / Guide to Portugal / Miscellaneous / Portuguese Life / Travel