Best real estate website in the world!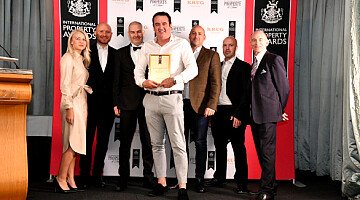 At a glittering awards dinner in the Savoy, London last month, the 2021-2022 International Property Awards judged the PortugalProperty.com website as the 'Best Real Estate Agency Website – Portugal', a category that we have successfully won for the past 10 consecutive years, plus the 'Best  Real Estate Agency Website – Europe' and last but by no means least for the first time, the 'Best International Real Estate Agency Website'.
The International Property Awards, sponsored and in association with Rolls-Royce Motors, are open to residential and commercial property professionals from around the globe. They celebrate the highest levels of achievement by companies operating in all sectors of the property and real estate industry.
An International Property Award is a world-renowned mark of excellence and celebrates the highest levels of achievement.
The awards started in 1994 and are split into regions covering Africa, Asia Pacific, Arabia, Canada, the Caribbean, Central and South America, Europe, UK and USA. Participants enter at their relevant national level and are judged by a highly experienced team of over 100 professionals who cover the whole range of property disciplines.
Our CEO, Michael Vincent, said: "These awards recognise the work we have been doing since 2008 and demonstrate the respect of the industry. They are a great source of pride and give us greater motivation to continue to do more and better."
Get the best website to help you find the best home in Portugal. Call Berkshire Hathaway HomeServices Portugal Property – part of one of the world's most trusted and respected corporations on +351 308 800 878 or 0800 014 8201 free from the UK. Alternatively, email us - info@portugalproperty.com.
Published in: Business / Miscellaneous / News and Updates / Portugal Property / Press Releases / Property for sale in Portugal / Site News