Berkshire Hathaway HomeServices Portugal Property Exhibits At Luxury Property Show In Shanghai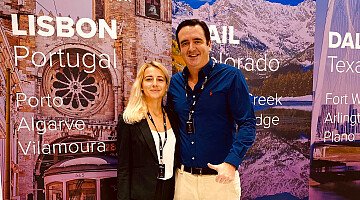 Michael Vincent & Hannah Wood
Berkshire Hathaway HomeServices Portugal Property was very proud to have exhibited at the Luxury Property Show in Shanghai, demonstrating our global real estate presence.
This is the leading luxury real estate exhibition held in China's commercial and financial capital, organised in cooperation with over 200 official media and show partners. The twentieth consecutive edition of LPS allowed the city's elite property buyers to interact and mingle with the world's most influential property experts. 
The show attracted more than 11,000 real estate investors and 200 luxury real estate companies from 35 countries. It allowed Chinese investors to discover the world's most sought after lifestyle properties: private islands, ski resorts, chateaux and vineyards, golf and marina properties, beachfront villas, luxury condominiums and more… giving visitors a taste of the rich luxury lifestyles associated with luxury property ownership.
Michael Vincent, CEO of Berkshire Hathaway HomeServices Portugal Property, reported that his team came away with 54 solid enquiries on investment property in Portugal and 20 leads for our partners. "Most questions we received were about the Golden Visa programme, which has contributed €2.44 billion to real estate sales in Portugal from the Chinese in the last four years." In fact, since the scheme began in 2012, the Portuguese government has issued the visa to a total of 5,717 investors and 9,559 family members (up to the end of January 2018.)
Published in: Site news / Property for Sale in Portugal / Property / Portugal Property / News and Updates / Guide to Portugal / Business