Award-winning Algarve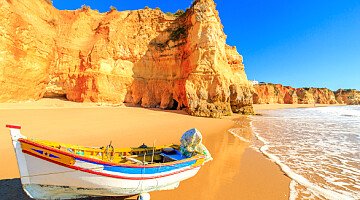 Published on
The Algarve – for the tenth time – has been voted as "Europe's Leading Beach Destination" at the 2023 World Travel Awards.
The World Travel Awards commemorated its 30th anniversary of rewarding travel excellence. It was established to celebrate excellence across all travel, tourism, and hospitality sectors. The online year-long, worldwide voting process comes from both qualified executives working within travel and tourism and the consumer.
This is truly an honour for the Algarve, as no other destination can claim this distinction. They were competing with other beach destinations such as Cannes in France; Corfu and Costa Navarino in Greece; Mallorca and Marbella in Spain; Porto Santo Island in Madeira and Sardinia in Italy.
The Algarve has over 300 days of sunshine a year, and more than 100 beaches, 88 of which enjoy the Blue Flag accolade. This is one of the world's most recognised voluntary awards for beaches, marinas, and sustainable tourism boats. To qualify for a Blue Flag, a series of stringent environmental, educational, safety, and accessibility criteria must be met and maintained. 
The President of the Algarve Tourism Bureau André Gomes said about winning the award: "The Algarve has beaches to suit all tastes. From long, sandy beaches protected by golden cliffs to small bays nestled between rocks and the calm waters of the east coast beaches like Manta Rota and Altura, which are perfect for families. Meanwhile, the west coast beaches of Amado, Bordeira and Monte Clerigo are some of the most scenic and uncrowded in the country and are a go-to destination for surfers. There are also famous beach resort towns such as Albufeira, Lagos and Vilamoura, all with fine beaches."
The Algarve region has seen a 15.3% growth in property prices in the last year, making it the second highest-performing market across Europe.
Portugal was also named "Europe´s Leading Destination 2023" at the Awards as well as picking up a total of 17 European awards in various categories. Highlights included the city of Porto, named "Europe's Leading City Break Destination," Lisbon as "Europe's Leading City Destination," Madeira, "Europe's Leading Island Destination" and the Passadiços do Paiva, in Arouca, as "Europe's Leading Adventure Tourist Attraction 2023."
Find out about investing in Award-Winning Portugal! Contact our friendly and knowledgeable team - hello@PortugalProperty.com or call us +351 308 800 878 or 0800 014 8201 free from the UK.
Discover the latest property investment information with the Berkshire Hathaway HomeServices Global Luxury Landscape 2023
Published in: Guide to Portugal / Miscellaneous / Portuguese Life / Travel